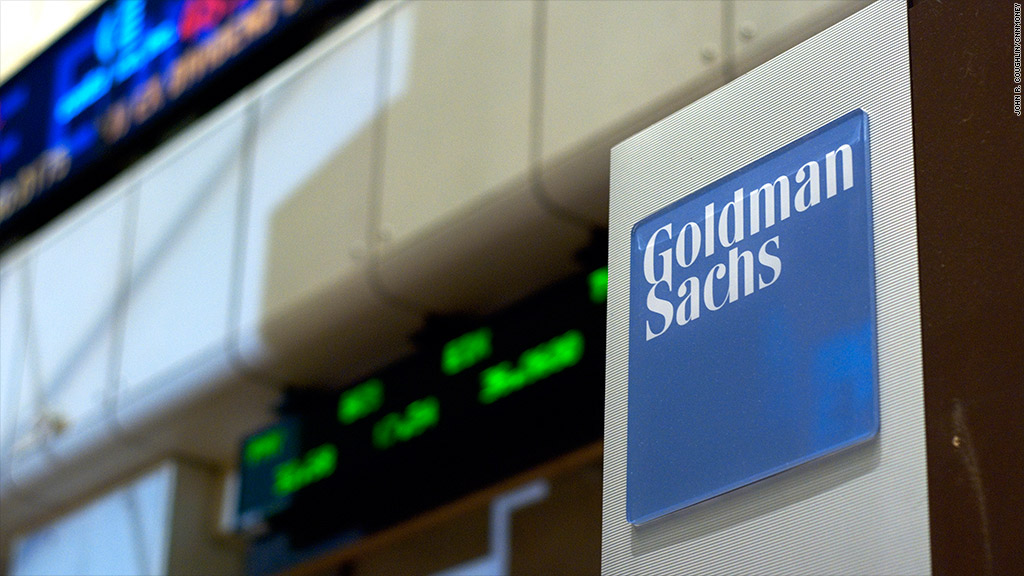 Goldman Sachs spooked investors Tuesday morning with revenues and profits that looked too much like those from the pre-financial crisis era.
The bank reported a first-quarter profit increase of 7% to $2.26 billion, or $4.29 per share. Revenue came in at $10.1 billion. Both numbers were higher than Wall Street's forecasts, but shares fell nearly 2% Tuesday.
Goldman said strong activity in commercial mortgages and so-called leveraged finance, the risky, or high-yield, debt behind private equity transactions pushed up its quarterly investment banking revenues, which rose by 36% from the previous year.
"There's a sense that they're taking on a bit more risk to boost earnings," said Chris Wheeler, a bank analyst at Mediobanca.
Related: Citigroup profit spikes 30%
Goldman Sachs generated $2.1 billion of revenue from investing and lending. That's 8% higher than a year ago.
The bank has shut down so-called proprietary trading, or short-term bets with its own capital, to comply with new regulations. Yet Wheeler said that Goldman Sachs will probably have to scale back this business even further.
"By its nature, that division is capital intensive and volatile," Wheeler said.
Despite reporting increases in profits and earnings, the bank's return on equity -- a measure of how successfully it give capital back to shareholders-- dipped in the first quarter to 12.4%, after rising last year. Before the financial crisis, the bank's return on equity was routinely above 20%.
Goldman Sachs' chief financial officer Harvey Schwartz declined to comment on the bank's targets for its return on equity on a conference call with analysts Tuesday.
That was one of many relatively routine questions that Schwartz refused to answer on the call. Wheeler said Schwartz's reticence contributed to investors skittishness about the bank's numbers.
The big question mark for Goldman is whether it can continue to post such strong results in a regulatory environment designed to limit risk taking.
Despite an overall increase in revenue and dealmaking, CEO Lloyd Blankfein noted in a statement that concerns about economic instability "constrained overall corporate and investor activity.".
Goldman implied that its investment banking revenues could drop, as its transaction backlog was lower than last quarter.
Related: JPMorgan Chase fails to impress Wall Street
Blankfein said the bank remains committed to controlling costs. Overall expenses dipped by 1% from last year but rose 36% from last quarter.
Average compensation per employee for the quarter edged up to $135,625. The bank set aside $4.34 billion for compensation expenses, unchanged from last year, but total staff decreased by 1%.
Before reporting first quarter earnings, Goldman's stock had been on a tear, gaining 15% in 2013.
Goldman Sachs (GS) is the fourth major bank to report results for the first quarter. JPMorgan Chase (JPM) and Wells Fargo (WFC) disappointed the market with weaker-than-expected revenue. But Citigroup (C) inspired confidence among investors after reporting profits and revenues that topped estimates.
Earnings from Morgan Stanley (MS) and Bank of America (BAC) are due out later this week.