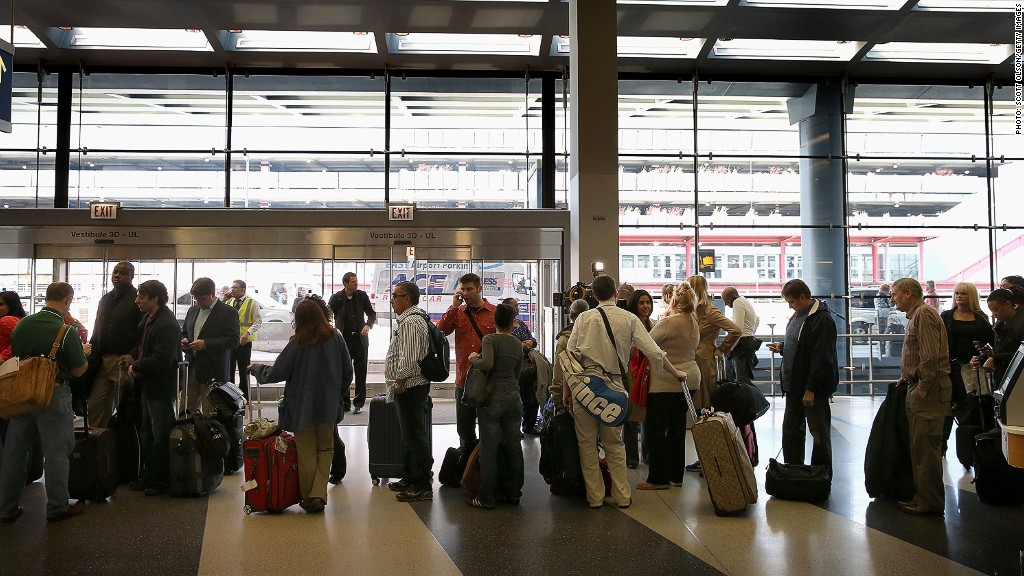 Flight delays are here.
Just like the government warned a few months ago, air travelers have started experiencing late flights caused by forced federal spending cuts. On Monday afternoon, all three New York City-area airports reported delays for all incoming flights, in part because fewer air traffic controllers reported for duty as they were forced to take unpaid time off, according to unions and airline trade groups.
Charlotte Douglas International Airport was also reporting "ground delays" with extra wait time averaging of 20 minutes due to furloughs and weather problems, according to Victoria Day of Airlines for America, a trade group for the major airlines.
Furloughs kicked in on Sunday for 47,000 Federal Aviation Administration workers, including 15,000 air traffic controllers.
"Throughout today, the FAA has put in place a series of traffic management initiatives around the country to manage both reduced staffing as a result of employee furloughs and weather related issues," Department of Transportation Press Secretary Justin Nisly said in a statement.
The FAA said there were 400 furlough-related flight delays Sunday. On Sunday night, flights into to New York's John F. Kennedy International and LaGuardia airports were delayed by an average of 70 minutes.
Also on Sunday, two Alaska Airlines flights destined for Los Angeles International Airport were diverted 60 miles away to Ontario International Airport Sunday night due to furloughs and bad weather. The airline had to bus passengers to LAX. The airline also waived rebooking fees through Tuesday, citing furloughs.
It's only the beginning -- FAA workers have to take a total of 11 days by September. They must take off at least one day every two weeks. That means 1,500 controllers could be off a day, or 10% of the workforce.
Related: Airlines ask court to block FAA furloughs
The delays hit earlier than expected -- only last week, Washington officials had predicted that delays could hit Monday.
"The best indicator of what this is going to be like is (that) we ran delays on Sunday -- not one of the busiest days of the week -- ... on a perfect weather day," said Stephen Abraham, the National Air Traffic Controllers Association representative in JFK.
Flight tracking service FlightStats reported early Tuesday that the number of flights with delays of 45 minutes or more nationwide soared to 13.2% of scheduled flights on Monday compared to 7% on Sunday and 8% the previous Monday. The most affected airport was LaGuardia in New York where just over half of flights were delayed.
There were another 400 flights canceled Monday, which comes to 1.7% of those scheduled. There were 50 flights canceled Tuesday as of 5 am ET.
The FAA must cut $637 million from its budget by the end of September, part of some $85 billion of automatic, across-the-board spending cuts that kicked in on March 1.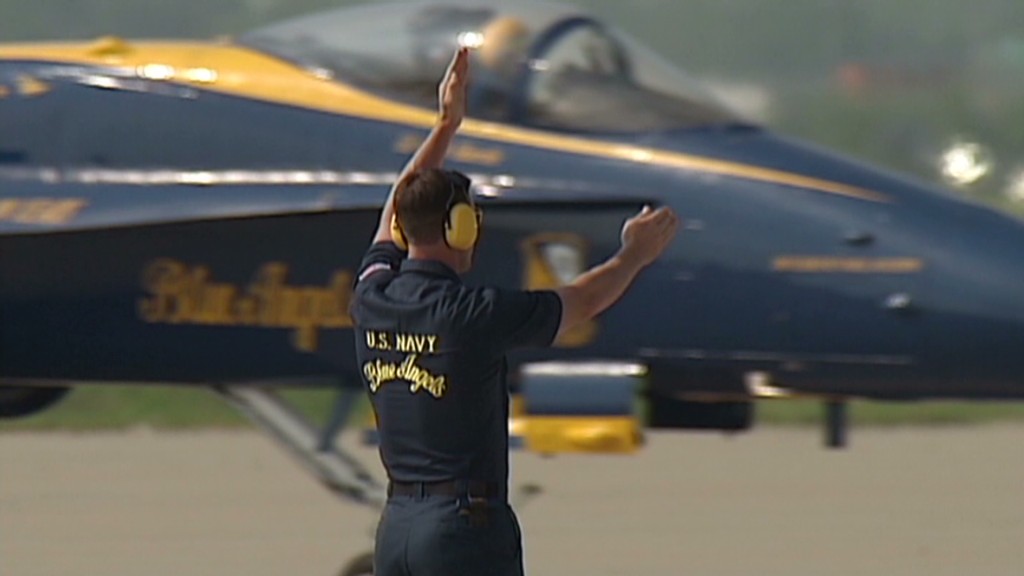 Since the furloughs are being administered at a local level, the FAA did not immediately have the total number of controllers furloughed nationwide Sunday or Monday.
Airlines have been preparing. The nation's airlines asked a federal court last Friday to block furloughs of air traffic controllers, saying the cuts could delay 6,700 flights daily with passengers waiting up to four hours in some cases.
On Sunday, Alaska Air Group Inc (ALK) started waiving rebooking and change fees for those with flights scheduled to or from Los Angeles through Tuesday, citing furloughs. The airline also warned customers headed out or into Chicago, Fort Lauderdale, Los Angeles, Newark, San Diego and San Francisco to check their flight status before leaving for the airport and expect delays.
Delta (DAL) Airlines issued similar warnings for customers traveling to or from JFK, LaGuardia, Newark, Philadelphia, Fort Lauderdale, Chicago O'Hare, Chicago Midway, San Francisco, Los Angeles and San Diego.
While the furloughs are unusual, Sunday night delay aren't that uncommon, according to Mark Duell, vice president of operations at FlightAware
"Last night was better than the previous Sunday, but slightly worse than the Sunday before that," Duell said.
--CNNMoney's Chris Isidore contributed to this story.