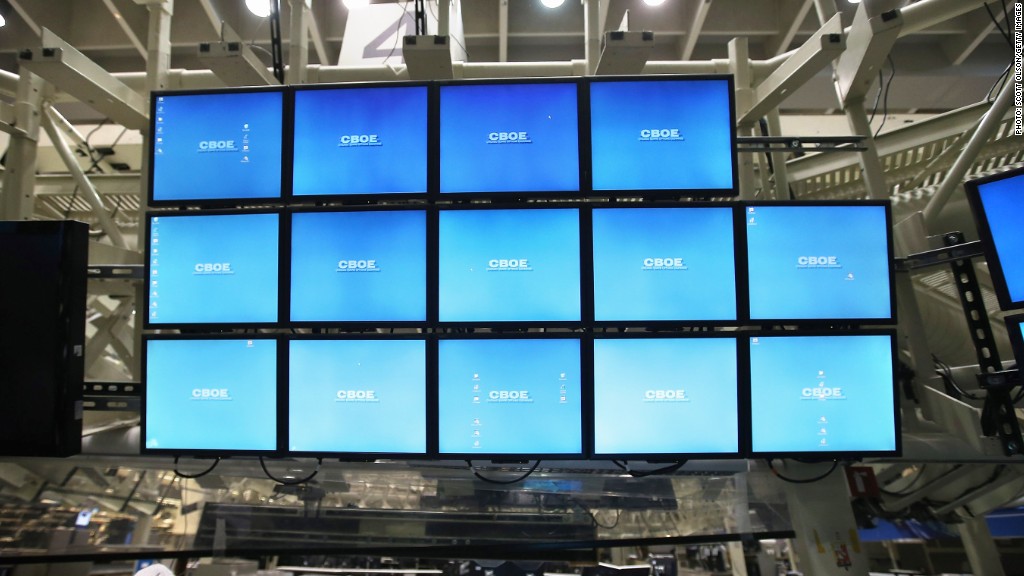 The Chicago Board Options Exchange resumed trading Thursday afternoon after being closed for most of the day due to an apparent software glitch.
"The malfunction that impacted CBOE was an internal systems issue and not the result of any outside influence," the exchange said in a statement. "The issue, which affected validation of certain orders and the communication of cancel/fill reports, has been corrected."
Trading resumed at 1 p.m. ET.
The CBOE (CBOE) is the largest U.S. options exchange, offering options for stocks, indexes and exchange-traded funds (ETFs).
Just days ago, on April 16, the exchange broke its record for volume, with 1,399,863 contracts changing hands.
One options trader, the head of trading at a major investment bank, said it wasn't that unusual to see a trading delay in one of the 11 exchanges on which options are traded.
He says these types of delays happen once a month.
It's generally not too disruptive since banks can just reroute orders from one exchange to another.
But the CBOE is the only exchange where S&P 500 and VIX (VIX) options are traded. Last month, average the daily trading volume in S&P 500 index options was 833,254, while VIX options volume reached a daily average of 661,236.
It's also the one exchange that rarely has problems, said the trader. "The CBOE's track record has been impeccable in the past."
On Friday, the exchange celebrates the 40th anniversary of its founding.
On its first trading day, 911 contracts were traded on 16 options listings. By 2012, annual volume had reached one billion contracts on 3,000 options listings.
-- CNNMoney's Catherine Tymkiw and Maureen Farrell contributed