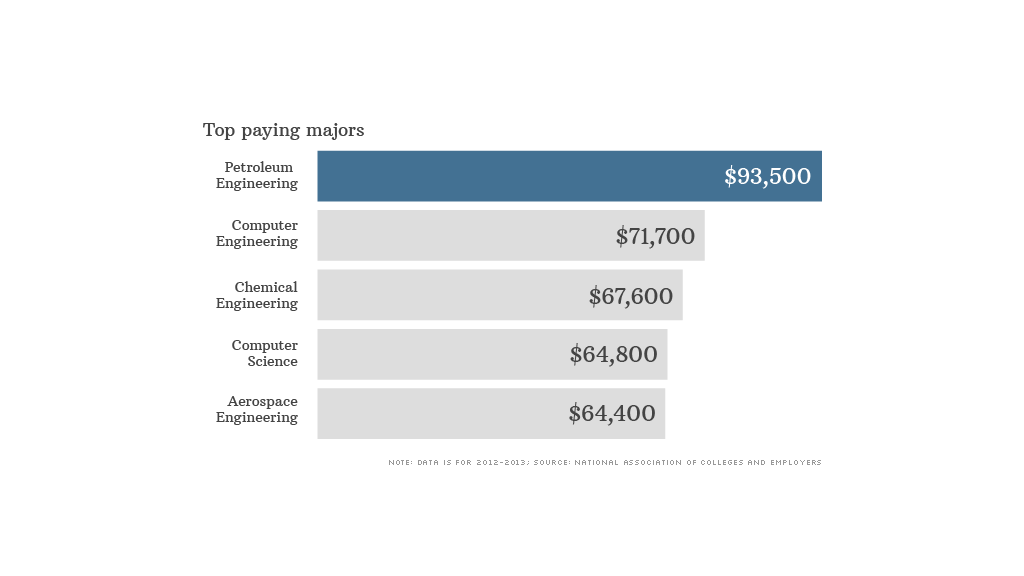 If you want a college degree that pays, engineering is the way to go.
Seven of the top 10 highest-paid college degrees are in engineering, according to a report out Thursday from the National Association of Colleges and Employers.
Petroleum engineering majors are the highest paid, with starting salaries averaging $93,500, according to the association. That's at least $20,000 more than the average salary for computer engineers, who are the second-highest paid group on the list.
Other highly-paid engineering degrees are in the fields of chemical, aerospace, mechanical, electrical/electronic, communications and technology, with starting pay ranging from $62,200 to $67,600 per year.
"Engineering majors are consistently among the highest paid because the demand for them is so great," said association executive director Marilyn Mackes, in a press release.
Related: The best job you never thought of: Actuary
Computer science is the most lucrative non-engineering degree, with an average starting pay of $64,800. The only other non-engineering degrees placing in the top 10 for pay are managing information systems/business ($63,100) and finance ($57,400.)
President Obama has, at various times in his tenure, addressed the country's need for more engineers and engineering students to stimulate the U.S. economy. In his State of the Union address earlier this year, he said he wanted to "reward schools that develop partnerships with colleges and employers, and create classes that focus on science, technology, engineering and math - the skills today's employers are looking for to fill jobs right now and in the future."
There's definitely a need to improve the prospects of college-aged Americans. As a demographic they face a higher unemployment rate -- 13.3% -- compared to 7.6% for the general population. So are students answering the call for engineers?
Related: Job market worsens in Spain and Greece
Sort of. Engineering is the second most popular field of employment for college students entering the job market in 2013, according to the study. This category was rather broad, including professional, scientific and technical services, with average pay of $48,600.
Education was the most popular category, with more than 455,000 new college grads entering this year, even though average annual pay was less than $40,000.
Healthcare was in the third most popular industry, with average pay of about $42,600, according to the report.