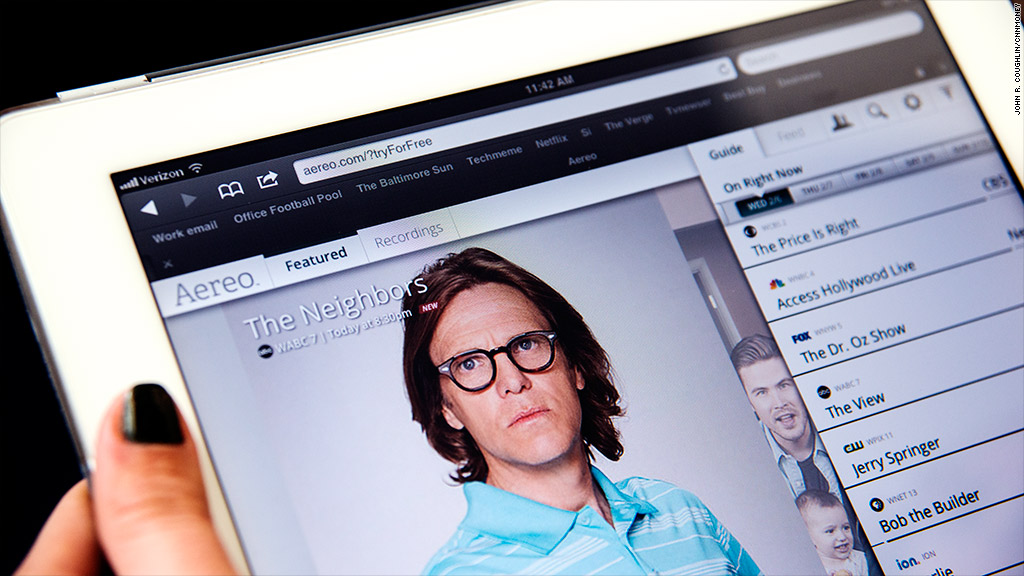 Networks are crazy with rage over Aereo, a startup that streams live broadcast content. But even as broadcasters are busy filing lawsuits against Aereo, they're also inking Web-streaming deals of their own.
Late Wednesday, Yahoo (YHOO) announced that it had scored a contract to stream NBC's (CMCSA) "Saturday Night Live" skits exclusively for one year -- effectively stealing the show from streaming service Hulu.
It's the only the latest broadcast show to sign a streaming deal. Even sports and other live events are slowly making their way online: CBS (CBS) live-streamed the Super Bowl in February, the second year in a row that the game was available online.
Broadcasters are finally tapping into a potentially massive market, with more eyeballs and more ads. But they were generally afraid to do it until the Aereo threat loomed, argued Bernstein Research analyst Todd Juenger in a report last week.
"History suggests the networks and distributors can come out on top," Juenger wrote, joking that if it works out, broadcasters should "perhaps send a big 'thank you' note to Aereo, for providing the kick in the pants to motivate the industry into action."
Juenger draws parallels between Aereo and TiVo, which set off a similar firestorm in 1999: After TV industry titans filed a barrage of unsuccessful lawsuits against TiVo, cable and satellite providers promptly launched DVR services of their own and ended up overtaking the market.
So far, the Aereo story is quite similar. Shortly after Aereo's New York launch in early 2012, most of the major broadcast networks and local TV station owners quickly filed copyright infringement lawsuits. But the courts have sided with Aereo so far: Earlier this month, a federal appeals court upheld a ruling denying the broadcasters' request to shut down Aereo, which is planning to launch its live streaming service in 22 new U.S. cities later this year.
Related: News Corp.: We'll switch Fox to cable unless Aereo shuts down
And so, the networks may have no choice but to out-Aereo Aereo.
One-off deals like the Yahoo-SNL contract may be easy enough to finagle, but it's extremely difficult to please all sides of the TV industry with a total-package livestream solution. Television is a messy patchwork of players: studios, distributors, stations, networks and service providers with varied interests and revenue streams.
The biggest impediment to networks rivaling Aereo, according to Bernstein's Juenger, is that they don't own and operate most local stations across the country; they merely ink affiliate agreements and wouldn't have the right to stream them without signing a separate deal.
As Juenger puts it: "Imagine explaining to a consumer why they can watch 'The Bachelor' but not their local ABC news." Local commercials pose a similar problem.
Aereo found a way around those issues by setting up thousands of tiny, old-fashioned TV-antennas in its data center. It assigns each customer a unique antenna and, using a server farm as the middleman, it streams TV from those antennas to customers via their Internet connections.
Broadcasters, including ABC parent Disney (DIS), CBS, Fox owner News Corp. (NWS) and Comcast's (CMCSA) NBC Universal, argue that Aereo should have to pay to retransmit their programming -- just like affiliates, cable companies and satellite providers do. Networks typically charge about $1 per subscriber for some broadcast channels, to a reported $55 for premium content like Disney's (DIS) ESPN.
Without an antenna-based rival solution, technical issues will likely continue to stymie broadcasters' Aereo solutions for a while. But Juenger thinks the players can come together -- especially if cable and satellite providers take the lead, since most U.S. TV watchers are ultimately their customers anyway.
"That's the most natural way for a consumer to think about this: 'I'm a Comcast subscriber, shouldn't I be able to log-on to a Comcast portal and watch all my networks?'" Juenger wrote. "The interests ... are all aligned here, so theoretically they should be able to work together for their common good to make this happen."
But, he added, that's "easier said than done, obviously."