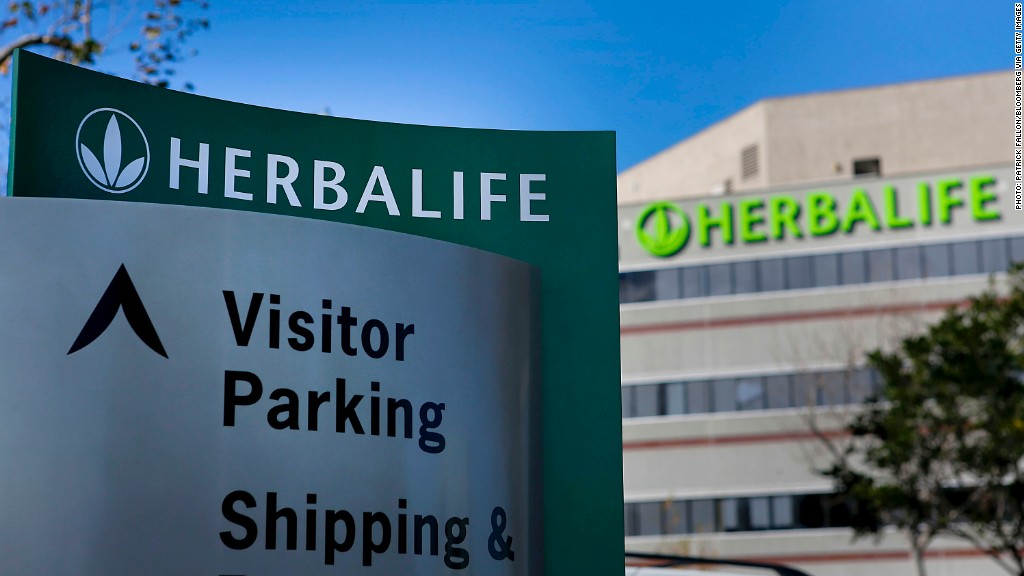 Herbalife is at the center of a high-profile feud between rival hedge fund managers, but you wouldn't know it from the company's latest quarterly report.
The maker of nutritional supplements, which operates a network of 2.7 million independent distributors around the world, on Monday reported better-than-expected earnings and strong sales for the first quarter.
Herbalife said earnings rose to $1.27 per share in the first three months of 2013, up from 88 cents per share in the same period last year. Analysts were expecting $1.06 per share, according to Thomson Reuters.
The company said earnings adjusted to include the impact of currency fluctuations in Venezuela and expenses related to "responding to attacks on the company's business model," were $1.10 per share. Sales in the quarter rose 17% to $1.1 billion, which was in line with forecasts.
Shares of Herbalife (HLF) were up slightly in afterhours trading.
Herbalife has been under fire since hedge fund manager Bill Ackman of Pershing Square Management called the company a massive "pyramid scheme" in late December 2012.
Ackman is betting $1 billion that Herbalife stock will fall to zero and has urged the Federal Trade Commission to investigate the company.
Herbalife has disputed Ackman's claims that the company profits more from fees it charges distributors than it does from selling actual products.
Related: KPMG resigns as auditor of Herbalife and Skechers
Meanwhile, two other prominent hedge funds announced significant investments in Herbalife during the first quarter.
In January, Dan Loeb's Third Point disclosed an 8% stake in Herbalife.
A few weeks later, billionaire investor Carl Icahn announced that he had acquired a 13% stake in the company, arguing that the stock was trading at a discount. Icahn also had two of his supporters named to Herbalife's board and secured the right to increase his ownership of the stock to 25%.
Investors will not hear from Herbalife executives until Tuesday morning, when the company holds its quarterly conference call with analysts at 11 a.m. ET.
Related: Is Herbalife a pyramid scheme? Inside look - from the bottom
The "record results" were driven by the company's "growth strategies" and strong demand for weight management and nutrition products, Herbalife's chief executive, Michael Johnson, said in a statement.
Looking ahead, Herbalife now expects to earn between $4.60 and $4.80 per share for the full-year. That's up from January, when the company predicted earnings between $4.45 per share and $4.65 per share.
Herbalife also announced a regular quarterly dividend of 30 cents per share and reiterated plans to repurchase $1 billion worth of its own stock.