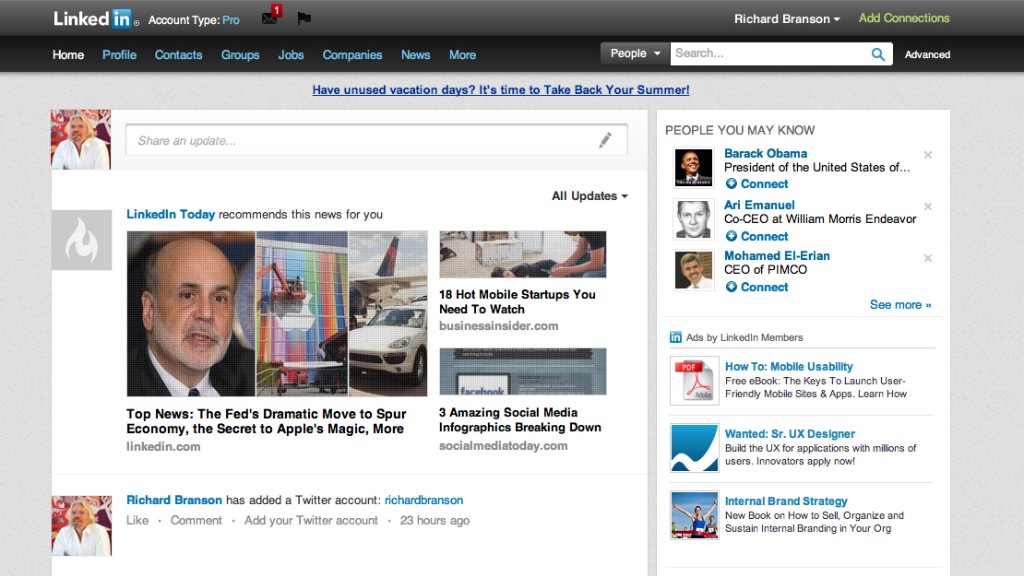 LinkedIn has blown Wall Street estimates out of the water consistently for nearly two years, but it looks like that trend could be coming to an end.
LinkedIn again beat expectations in its first-quarter earnings report late Thursday, but the company's guidance for the second quarter came in lower than analysts were expecting.
Shares fell a whopping 12% in after-hours trading, after reaching an all-time intraday high above $202 in regular trading on Thursday.
The record high comes after an incredible 73% run-up so far in 2013. When a stock is that hot, any spot of bad news tends to pop the bubble of excitement.
For LinkedIn (LNKD), it was the company's outlook. The business networking site expects revenue for the current quarter to come in between $342 million and $347 million. Analysts polled by Thomson Reuters were predicting revenue of around $359 million.
Investors clearly chose to focus on that outlook, rather than LinkedIn's first-quarter earnings. The company earned $52.4 million during the quarter, excluding one-time items, on sales of nearly $325 million. Both figures beat Thomson Reuters estimates.
Facebook (FB), with its 1 billion-plus user base, tends to get most of the social-tech-stock press. But Facebook is heavily reliant on advertising, which made up 85% of its sales last quarter. LinkedIn has three distinct revenue streams, a diversified mixed that appeals to investors.
Related story: Facebook sales jump 38%, with mobile boost
All of those revenue streams were up significantly last quarter, but how important they are to LinkedIn's overall sales shuffled a bit.
Revenue from "talent solutions," which lets companies post jobs and helps recruiters contact potential candidates, totaled $184 million. That's 57% of LinkedIn's total revenue for the quarter, up from 54% from the same period in 2012.
Talent solutions stole a few percentage points from the marketing sector. Revenue from marketing products came in at nearly $75 million, which represents 23% of LinkedIn's total revenue. That's a slight slip from 25% a year ago. Some analysts have expressed concern about how the shift to mobile will affect sites like LinkedIn and Facebook -- smaller screens mean less space on which to put ads.
LinkedIn's third product, paid subscriptions, came in around $67 million. Those "premium subscriptions" represented 20% of total sales last quarter, consistent with the first quarter of 2012.