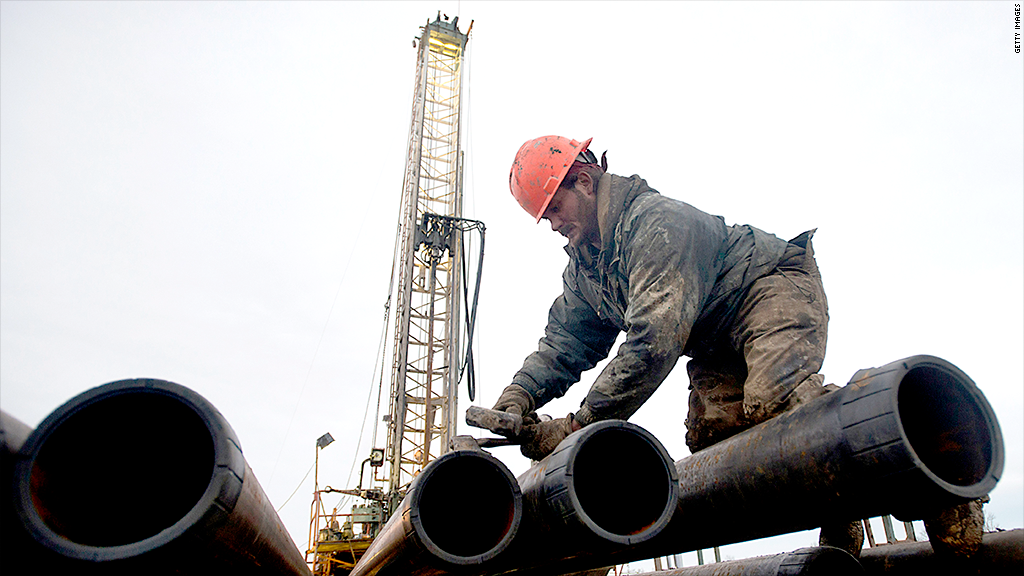 Here's an intriguing switch in the energy market: U.S. oil firms have been selling off their assets overseas and investing the money in America's domestic fields.
Last year ConocoPhillips (COP) announced plans to sell its stake in Kazakhstan's Kashagan oil field -- the largest energy project in the world -- for $5 billion. It was just one of at least six major foreign sales last year for Conoco, which totaled nearly $11 billion, according to industry data provider PLS.
Much of that money is being redirected to investments Conoco has in Texas' Eagle Ford Shale and North Dakota's Bakken Shale, according to PLS Managing Director Brian Lidsky.
A Conoco spokesman confirmed the sales, and said the money was being used for general corporate purposes and to "capture new opportunities for the future."
American oil firm Hess (HES) did something similar, selling over $4 billion of assets in the U.K., Azerbaijan and Russia. A company spokesman said that money went to a number of different initiatives, including paying down debt and building up the company's balance sheet. The spokesman said Hess invested $3.1 billion in North Dakota in 2012, where the company boosted its oil production by 55%.
U.S. oil companies Devon (DVN), Marathon (MARA), Anadarko (APC), Murphy (MUR) and Noble Energy (NBL) have all sold overseas assets in the last couple of years. In addition to Texas and North Dakota, PLS said the money has gone, at least in part, to Colorado's Niobrara and Pennsylvania's Marcellus Shale.
"Everyone is looking to increase their presence in the United States," said Joe Stanislaw, an independent senior energy adviser at the consulting firm Deloitte.
Related story: America has an energy boom. Now what?
The reason is pretty straightforward: It's generally easier to do business in the United States than in many other places.
Unlike Libya, Iraq and other places that take 90% or more of a company's profits, taxes and royalties in the United States seldom exceed 50%. The geology is better known. The rule of law is strong. Workers are skilled and infrastructure is available. There's little risk of violence.
"The political risk in the United States is they may try to shut you down," Stanislaw said. "They're not going to blow up your camp."
The energy boom in the United States -- made possible by new drilling technology and techniques -- has been well-documented. The country is on track to surpass Saudi Arabia as the world's leading oil producer by 2020.
The expansion certainly comes with environmental risks. The widespread use of hydraulic fracturing, or fracking, to crack the shale rock and allow oil and gas to flow has raised concerns over water contamination and earth quakes. Air pollution, congestion, and other problems plague energy boom towns.
But the boom has brought jobs -- a trend that's likely to accelerate.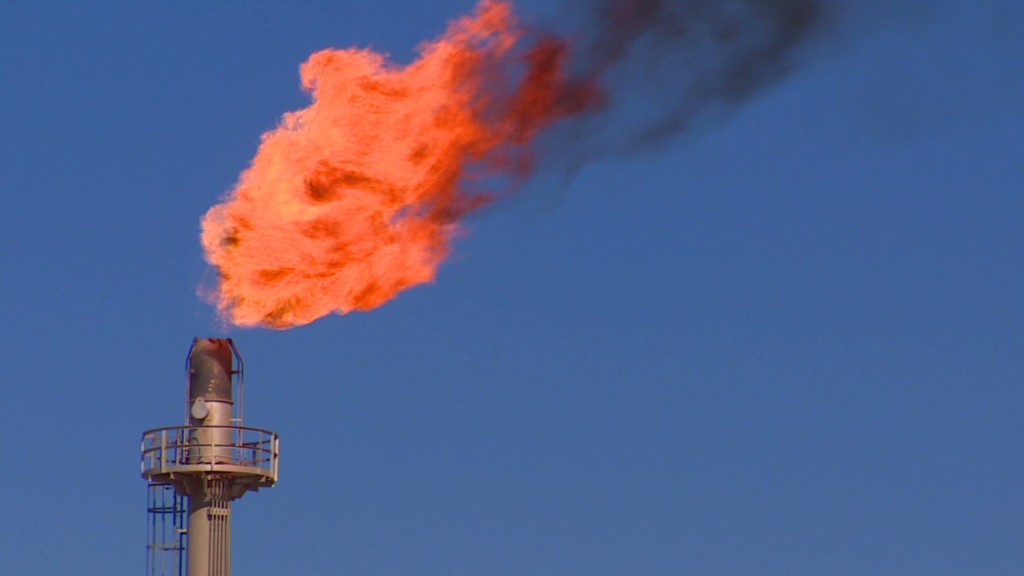 More than $5 trillion is expected to be invested in U.S. shale and other "unconventional" energy developments by 2035, according to the consultancy IHS. The money is coming from both U.S. companies and foreign firms eager to get in on the boom.
Some 1.7 million people currently work in or around these new energy plays. By 2035, IHS expects the energy boom to directly or indirectly support 3.5 million American jobs. Around 700,000 of those jobs are expected to materialize within the next two years.
"That's a sizable number of jobs in an economy with a fairly slack labor market," said IHS economist John Larson.
The benefits will ripple beyond states sitting on top of the shale formations, Larson said.
One out of every four jobs already created has taken place in a state that's not seeing any new drilling, by IHS's estimate. The tally includes ancillary hiring such as real estate professionals in New York, insurance agents in Boston or heavy equipment makers in Illinois that are all benefiting, one way or another, from the country's energy boom.