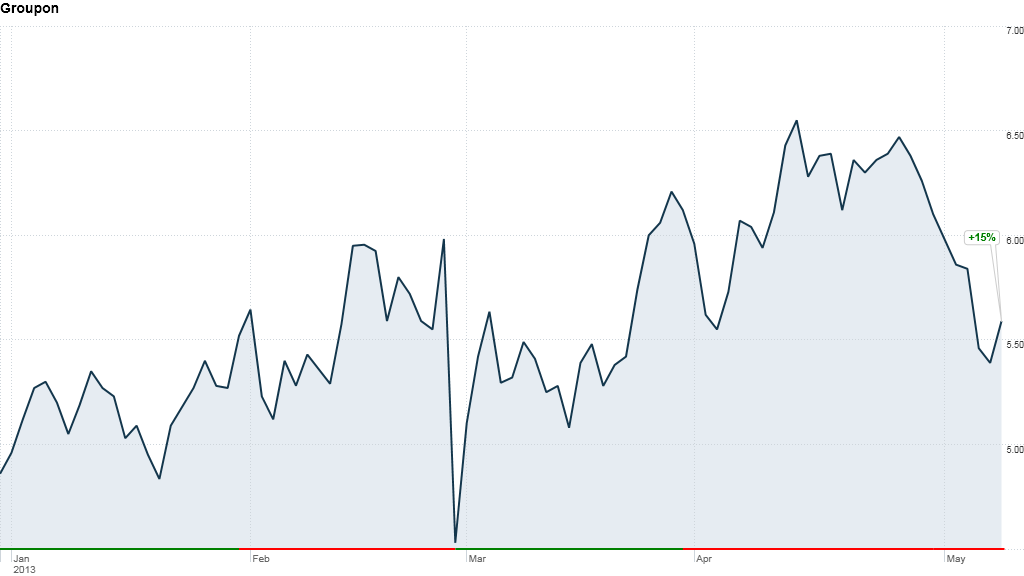 Shares of Groupon soared early Thursday after the daily deals company appeared to be righting the ship following the ouster of its CEO.
The company reported a smaller loss and growing sales in the first quarter after the market close Wednesday. That's what counts for good news these days in the struggling daily deals business. Groupon (GRPN) had become notorious in recent quarters for missing Wall Street analysts' expectations, and its shares typically plunged following its financial reports.
This past quarter, the news wasn't exactly outstanding. The company's current-quarter outlook was on the lower end of analysts' forecasts, Groupon continued to lose money, and its international business suffered.
But there were elements of improvement. Mobile usage made up nearly half of Groupon's business. The company grew its active customer base by 13%, and the number of deals it sold surged.
That was enough to convince investors to send Groupon's stock up 11% in premarket trading Thursday. It's been only two months, but getting rid of Groupon founder Andrew Mason -- who was unceremoniously shown the door in February -- is a decision that might pay off.
Related story: Groupon CEO Andrew Mason's severance: $378.36
The company's net loss for the quarter narrowed, and sales grew 7.5% from a year ago to $601 million.
For the current quarter, Groupon said it expects revenue between $575 million and $625 million. Analysts surveyed by Thomson Reuters had forecast earnings of $616 million.
Groupon remains the largest and most financially successful daily deals company in the business. Amazon (AMZN) recently wrote off almost all of the $175 million it invested for a stake in LivingSocial, a distant No. 2.