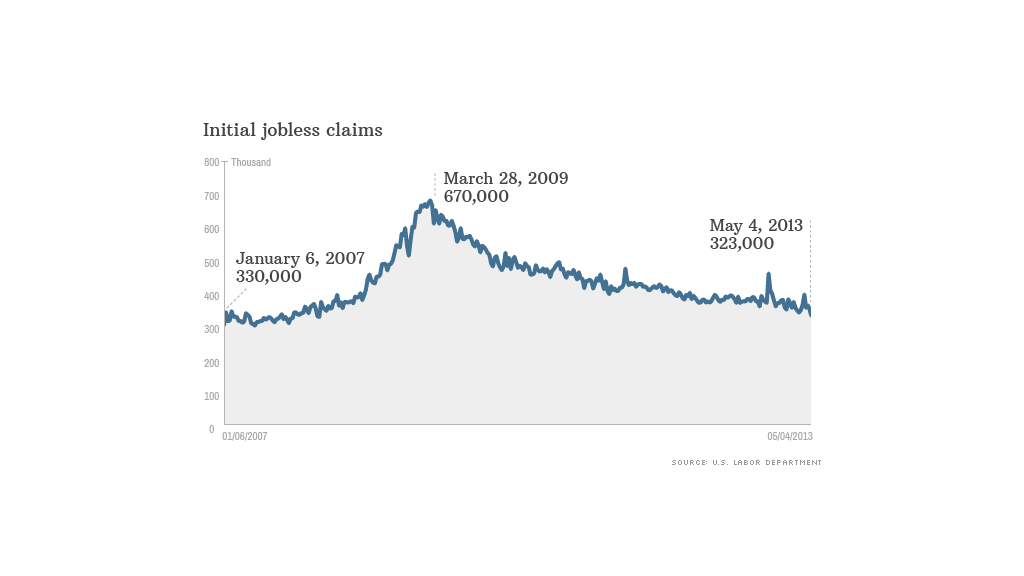 Jobless claims fell to another five-year low last week, signaling that layoffs are back to pre-recession levels.
About 323,000 people filed for their first-week of unemployment benefits last week, the Labor Department said Thursday. That's the lowest level in a single week since January 2008, and corresponds with other data that show employers are laying off fewer workers.
Before the recession began in December 2007, it was common to see about 320,000 initial claims filed each week due to normal churn in the job market. Then, as firms slashed millions of jobs, weekly claims soared as high as 670,000 in March 2009.
The drop in claims since then is seen as an encouraging sign that the job market is recovering. Overall, the U.S. economy lost 8.7 million jobs in the financial crisis, and has added back about 6.2 million jobs since then.
Related: Hiring picked up in April
That said, high unemployment still lingers in the aftermath of the recession. Overall, 11.7 million people are still counted as unemployed, and about 3 million of them filed for a second week or more of unemployment benefits two weeks ago, the most recent data available.