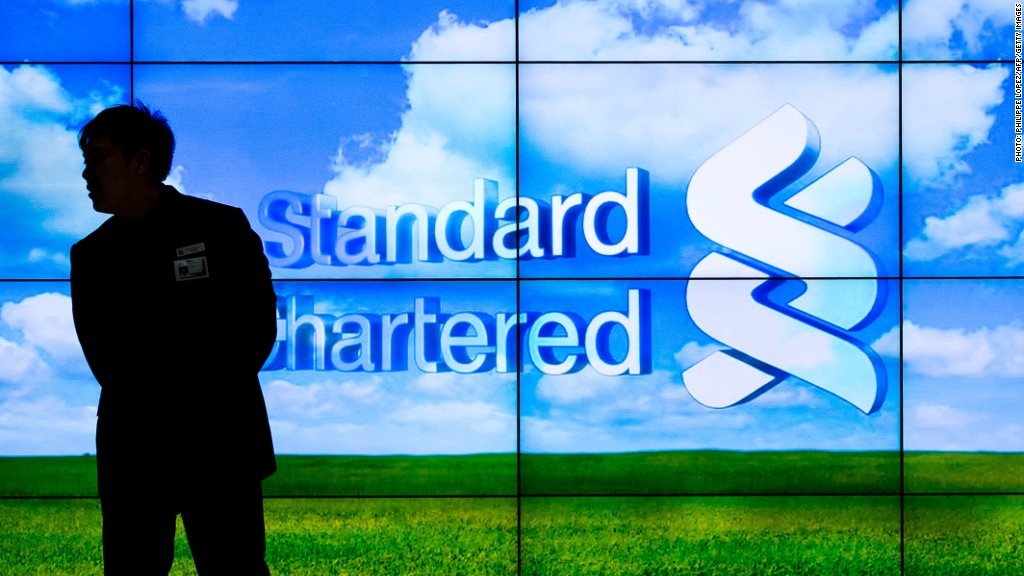 Renowned short-seller Carson Block from Muddy Waters has taken a bet against British bank Standard Chartered, saying its loans are deteriorating and investors are underestimating the bank's risks.
Investors reacted by sending Standard Chartered (SCBFF) shares down by as much as 5% on Monday. Shares recovered later to close 2% lower on the day.
Block's firm, Muddy Waters, has made a name for itself by spotting fraudulent accounting practices, primarily at Chinese companies.
Standard Chartered, the London-listed international bank with a $60 billion market capitalization, makes more than 90% of its revenue in Asia, Africa and the Middle East.
In remarks to CNBC and Bloomberg confirmed by Muddy Waters, Block said he was concerned that any risks stemming from China would create knock-on effects in the bank's loan book that would hurt the business.
In this particular case, Block's firm bought five-year credit-default swaps on Standard Chartered, a trade that could profit if the bank's loans start defaulting. CDSs are derivative contracts that pay out when another party defaults, and their prices rise as risk of default increases.
Block said it was relatively cheap to take the position, calling the trade "a no-brainer."
Related: How Muddy Waters spots fraud in China
Block noted that Standard Chartered has been growing its loan book by leaps and bounds, but it may not have enough money set aside to protect itself from a cascade of bad loans.
Standard Chartered refused to comment directly on Block's trades, but has seen a jump in impaired loans, according to its latest quarterly statement. Impaired loans in consumer banking increased by "a double digit percentage" in the first quarter compared to the same period in 2012, the bank said.
Emerging markets such as China and India have seen phenomenal economic growth over the past few decades, but recent data has raised concerns about whether they can sustain such a rapid rate of expansion.
Morningstar credit analyst James Leonard said there may be good reasons to bet against Asian loans, though Standard Chartered was relatively well positioned when it comes to earnings power and capital.
"If I were to bet against a bank, I would pick one of the Italian or Spanish banks where we have already seen dramatic increases in non-performing loans," he said.
Muddy Waters has previously taken short positions on several other companies, including Singapore-based commodities trader Olam International, Focus Media (FMCN), Rino International (RINO), China MediaExpress and Duoyuan Global Water (DGWIY).
Rino and China MediaExpress have subsequently been delisted from Nasdaq while Duoyuan has been delisted from the New York Stock Exchange. Focus Media rejected Muddy Waters' allegations and the stock rebounded. Olam responded to Block's scathing attack by saying it would make some changes at the business.
Muddy Waters' most prominent takedown was the Chinese timber company Sino-Forest in 2011. The firm's accusations of fraud triggered a massive sell-off in shares of the Toronto-listed company before they were eventually suspended. The drop in Sino-Forest's price forced hedge fund high roller John Paulson to book deep losses on the stock.
--CNNMoney's Hibah Yousuf contributed to this article.