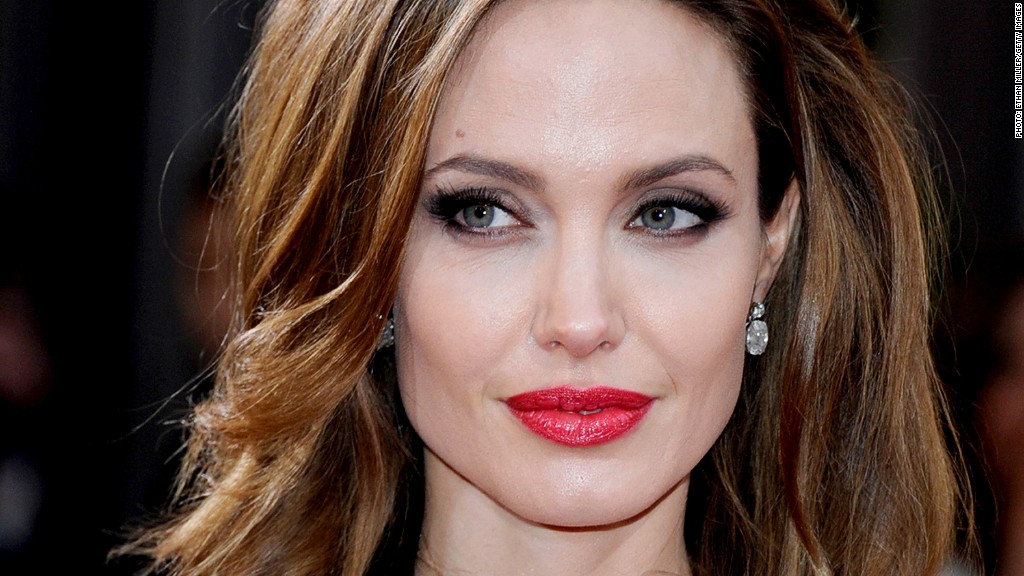 Angelina Jolie's decision to undergo a preventative double mastectomy has put the spotlight on Myriad Genetics, the only company in the world that conducts genetic tests for breast cancer.
In an op-ed piece published by the New York Times on Tuesday, the Oscar-winning Jolie wrote that she decided to have the surgery based on the discovery that she has a "faulty" BRCA1 gene.
Jolie said her doctors estimated that she had an 87% risk of breast cancer and a 50% risk of ovarian cancer.
"Once I knew that this was my reality, I decided to be proactive and to minimize the risk as much I could," wrote Jolie. "I made a decision to have a preventive double mastectomy. My chances of developing breast cancer have dropped from 87 percent to under 5 percent."
Jolie explains that it's possible for women to find out if they're at risk for breast cancer through a blood test, however she doesn't mention any companies by name. But Myriad is the only company that conducts tests related to the BRCA genes, known as BRCA1 and BRCA2, according to Dr. Judy Boughey, a breast surgeon with the Mayo Clinic in Rochester, Minn.
In fact, Myriad (MYGN) has a patent for the BRCA gene, a fact which is now at the center of a U.S. Supreme Court case. That patent means Myriad is the only company that can administer tests for the BRCA genes, which suppress cancerous tumors. When mutations are discovered in the BRCA gene, they could indicate a high risk of breast cancer. Testing for BRCA mutations serves as powerful tools for women in deciding whether to undergo preventative mastectomies to try to curtail the emergence of potentially fatal cancer.
Related: Doctors blast ethics of $100,000 cancer drugs
The Association of Molecular Pathology, the American Civil Liberties Union and other petitioners have challenged Myriad in the U.S. Supreme Court over its patent, which the ACLU refers to as "unconstitutional and invalid."
Mary Steele Williams, executive director for the Association for Molecular Pathology, said in a statement last year that patents on genes, including BRCA1 and BRCA2, "grant diagnostic test monopolies to commercial companies." She said these companies often compile their findings in "proprietary databases to which the medical community lacks access."
The court heard arguments on April 15 and a decision is pending.
Related: Who will pay more under Obamacare? Young men
Myriad spokesman Ron Rogers said that BRCA genetic tests cost $4,000. But he added that 95% of those undergoing tests are insured, meaning that patients either pay nothing, or are only responsible for a co-payment.
He said that coverage for the test has expanded since the Affordable Care Act, also known as Obamacare, was enacted last year. Under the law, genetic testing is classified as a preventative measure.
Rogers added that for patients without insurance his company will administer the test for free or at a "greatly reduced cost."
Myriad conducts about 250,000 BRCA tests per year, and its shares were up 2% in midday trading.