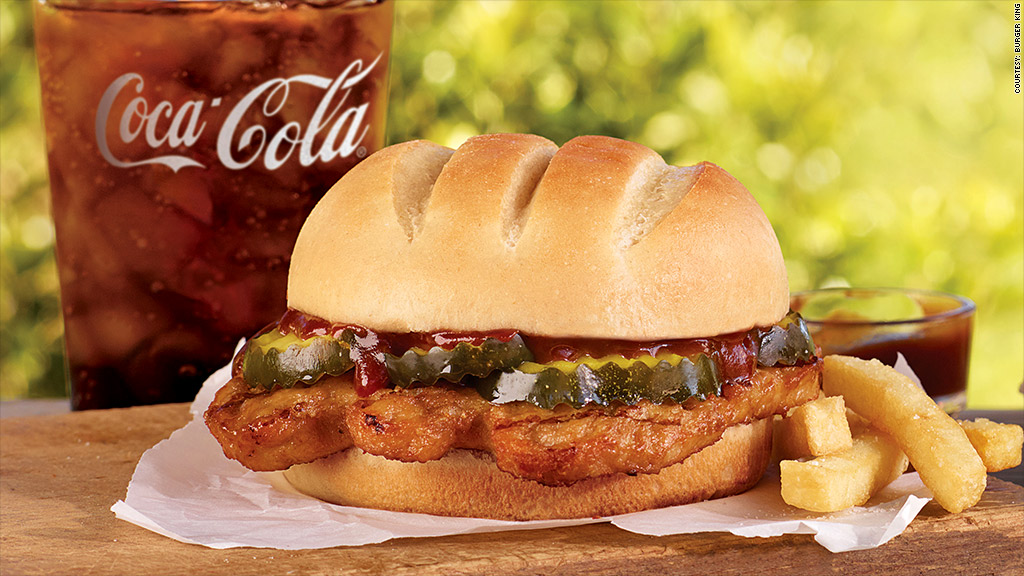 Looks like Mc Donalds' McRib won't be the only pressed pork patty in town.
Burger King (BKW) is about to offer up some competition. The fire-grilled burger-maker unveiled its summer BBQ menu on Wednesday, which includes the Rib Sandwich along with 12 other items.
The menu, also featuring a Memphis BBQ Pulled Pork Sandwich and a Carolina BBQ Tendercrisp Sandiwch, will debut on May 21.
While a Burger King publicist wouldn't confirm if this menu is intended to lure customers away from the McDonald's McRib, the Burger King rib sandwich does bare a BBQ-themed resemblance.
Burger King described the Rib Sandwich as a "juicy boneless rib patty with a sweet and tangy BBQ sauce" that is "topped with crispy bread and butter pickles" served on a "warm toasted artisan style bun."
McDonald's (MCD) spokesman Ofelia Casillas didn't discuss the competition. She said the McRib, a seasonal product, was currently unavailable, but she promised that it would come back, noting that it's usually offered in the fall.
"We know our customers love McRib and we won't disappoint them!" she said. "It will be returning."
Related: McDonald's marketing opportunity turns murky
Burger King, like other fast franchises, posts nutritional information for its products online. But no such information could be found for the Rib Sandwich.
According to McDonald's, the McRib comprises 500 calories and 26 grams of fat.
Impressive as that is, it trails behind KFC's now-defunct Double Down, which once boasted 540 calories. The sandwich used twin slabs of fried chicken for buns, instead of bread.