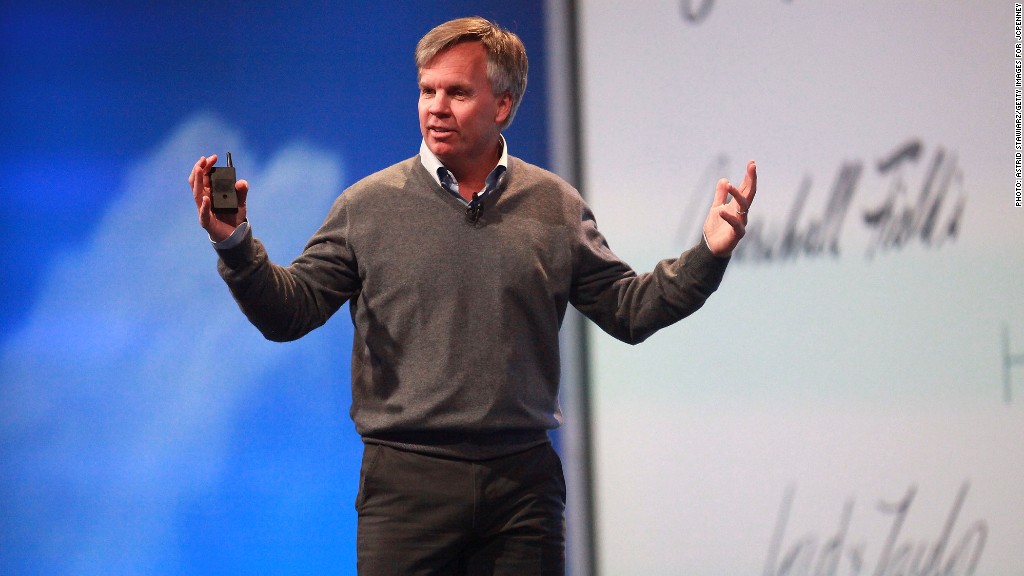 There's one great thing about J.C. Penney's last quarter: It's over.
The struggling retailer lost a whopping $289 million for the three months ended on May 4, with sales plunging 16.4% versus a year prior.
The losses came during a quarter in which J.C. Penney announced the departure of CEO Ron Johnson, a former Apple (AAPL) retail executive hired in 2011 in a bid to revive the floundering chain.
Johnson announced a series of new initiatives -- including overhauled prices, redesigned store layouts, and even free haircuts for kids -- in an effort to revitalize the company. He ditched older brands and announced plans to to eliminate checkout counters in favor of mobile and self-checkout.
The results, however, were dismal. The company's losses this past quarter -- $1.31 a share, excluding certain special charges -- far exceeded the prediction of 89 cents from analysts surveyed by Thomson Reuters, while revenue came up just short of estimates.
J.C. Penney shares fell 2.2% in after-hours trading Thursday and were down more than 4% premarket.
Meet the new boss: J.C. Penney's new chief executive is Mike Ullman, who led the company for seven years prior to Johnson's arrival.
J.C. Penney is now scrambling to close the book on the Johnson Era. A few weeks ago, the company began running an ad on its YouTube channel copping to mistakes and pleading with customers to come back.
"We recognize the magnitude of the challenges that we face, and we believe we can put J.C. Penney back on a pathway to profitable growth." Ullman said in a conference call with analysts Thursday afternoon.
He pledged reemphasize the company's private brands and improve the performance of its online store.
"Over the last year, jcp.com functioned as a completely separate entity inside the company, with little synergy between stores and online," Ullman said.
J.C. Penney has also moved to shore up its finances since Johnson's departure, announcing a few weeks ago that it had secured a $1.75 billion loan from Goldman Sachs (GS).
Whether that will be enough to keep the business afloat remains to be seen. Shares are down nearly 30% over the past year.
The shift to online shopping has been tough on many brick-and-mortar retailers, with chains like Linens 'n Things, Circuit City and Borders going out of business in recent years.
J.C. Penney did get a rare vote of confidence recently from hedge-fund mogul George Soros, who revealed a 7.9% stake in the company last month.