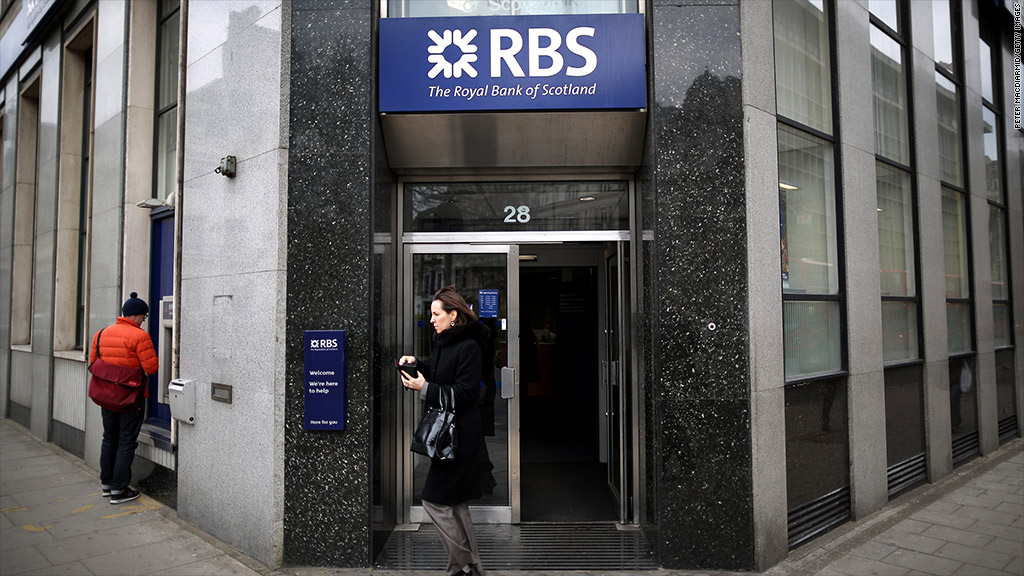 Royal Bank of Scotland and Lloyds won't need to tap investors or taxpayers for new funds to bolster their financial strength as they prepare to be returned to the private sector.
The Bank of England said in March that British banks would need to raise another £25 billion ($38 billion) to ensure they were ready for any potential market shocks, prompting speculation that the two bailed-out banks may be among those needing to raise fresh equity.
RBS and Lloyds issued statements Wednesday saying the central bank had accepted their existing plans to meet capital requirements. Shares in both banks gained about 1.6%.
Lloyds (LYG) said it was confident it would meet those requirements by retaining earnings and selling some assets. RBS (RBS) said it was working towards meeting the central bank's capital rules by selling some businesses and pursuing a partial IPO of its Citizens Financial division.
The Bank of England said it was still in talks with other U.K. banks to ensure they have adequate funding to withstand potential problems.
Related: RBS looks to escape state control
The announcements came as the International Monetary Fund issued a new report about the U.K., expressing concern that bank balance sheets continue to be impaired. It said the country was "still a long way from a strong and sustainable recovery."
The British government owns just over 80% of RBS and nearly 40% in Lloyds, roughly five years after it rescued the banks during the financial crisis at a cost of £66 billion ($100 billion).
The government is now considering how to exit its investment in RBS and Lloyds, possibly before national elections due in 2015.
The IMF said it supports efforts to put the banks back in the hands of private shareholders and hoped the government would be able to do it in a way that "maximizes the value for taxpayers," including providing a guarantee to meet any future capital shortfall if necessary.
Early this month, RBS chairman Philip Hampton said the bank would work with the government to prepare a privatization prospectus by the middle of 2014, allowing it to extract itself from what has been a troubled relationship.