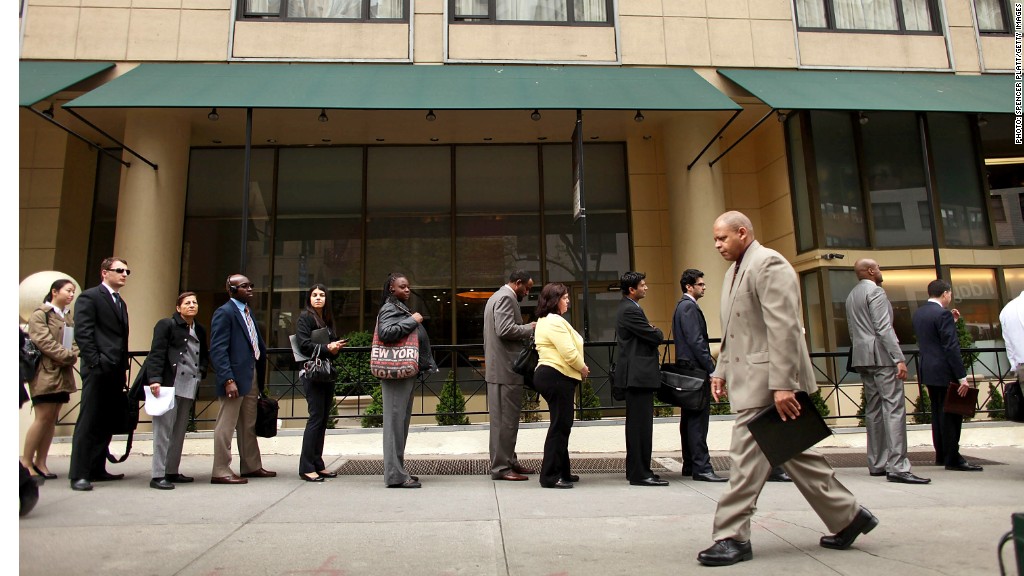 Claims for unemployment benefits fell last week, signaling the job market may be strengthening slightly in May.
About 340,000 people filed for their first week of unemployment benefits last week, according to seasonally adjusted figures from the Labor Department. That's 23,000 fewer initial claims than in the prior week, and a lower number than economists had expected.
Initial claims are considered the first key measure of the job market. They're closely correlated with layoffs and recently have been hovering around five-year lows -- an encouraging sign that fewer employers are cutting their payrolls.
That said, the figure can be choppy from week to week. Economists often prefer to look at a four-week moving average to smooth out the volatility, and that number also fell last week.
Data from last week is key because it corresponds with the week the Labor Department collects information for its monthly jobs report. Compared to that same week in April, weekly initial claims are down by about 15,000. This could be an indication that the government will report more jobs were added in May than the 165,000 jobs that were added that month. The May jobs report is due out on June 7.
As of April, about 11.7 million people were still counted as unemployed. Not all of them are receiving unemployment benefits, though.
About 2.9 million people filed for their second week or more of unemployment benefits during the week of May 11-- the most recent data available.