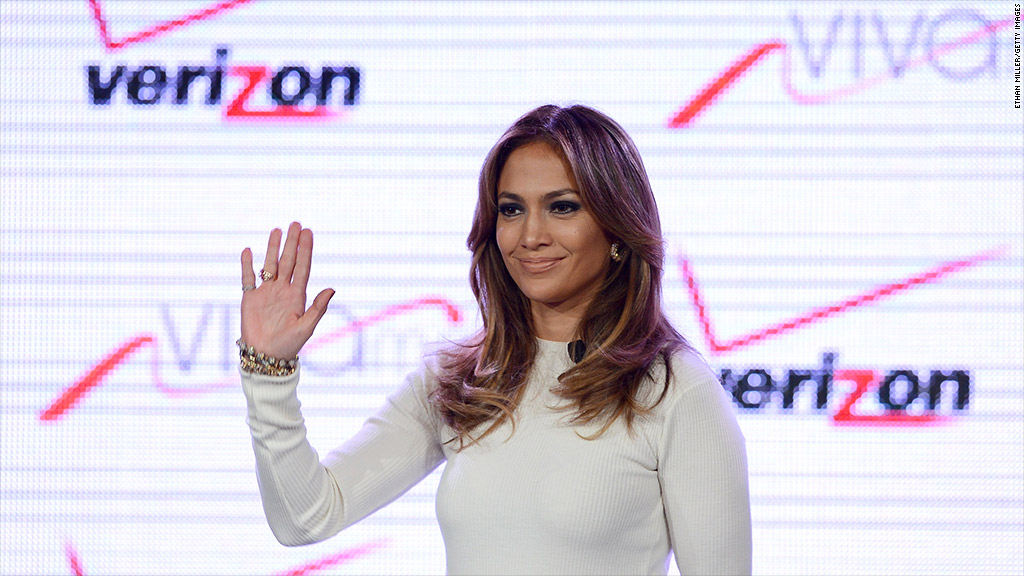 Jennifer Lopez has found a new gig: majority shareholder and chief creative mind behind a new line of Verizon Wireless retail stores.
Her company, called Viva Móvil, is working with Verizon (VZ) to launch a chain of cell phone stores targeted to the Latino population. Verizon and Lopez announced the partnership Wednesday at the CTIA wireless industry trade show in Las Vegas.
"As Latinos, we do things differently, including how we shop for wireless devices," said Lopez at a press conference. "Right now, there are stores geared to everybody, but not ones that are made specifically for our community. The Latino community has been underserved."
The American Latino community is growing quickly, and wireless carriers are looking to capitalize on that trend. There are 52 million Latino Americans today, and they skew young: 27 is the average age, according to CTIA. More than 1 million Latinos will turn 18 this year, a segment that is particularly keen on the latest wireless technology.
Latinos are also getting richer. As a whole, American Latinos have $1.2 trillion in purchasing power, according to Marcelo Claure, CEO of Brightstar, a wireless service provider. That's greater than the purchasing power of the entire population of Mexico.
"Increasing wealth and in love with mobile technology? Sounds like a segment you might want to market to," said Steve Largent, CEO of CTIA.
Related story: Insanely durable smartphone ... from Caterpillar?
AT&T (T) is already doing that. For the past several years, the company has hired bilingual staff for its retail stores in Latino-heavy regions and launched targeted marketing campaigns in those regions.
Verizon took a different path, choosing instead to work with another company with expertise in the community.
"We used to do things on our own, but we realized partnering was the best way to go here," said Marni Walden, CEO of Verizon Wireless. "To stay on the path of having the best customer experience, we knew we had to do more, and that's why Viva Móvil is so important to us."
The Viva Móvil stores will be designed to be attractive to the Latino community. The staff will be bilingual, and stores will have play areas for kids. A third of Latinos shop with their children, Lopez said.
Related story: Asian automakers trouncing Detroit in key U.S. market: Hispanics
Viva Móvil's online store will also be heavily integrated with social networks. Latinos spend far more time than non-Latinos online, Brightstar's Claure noted. That's why Viva Móvil will be the first wireless retailer to sell phones directly on its Facebook (FB) page.
The first brick and mortar Viva Móvil store will open on June 15 in New York, and the company will open at least 14 other stores in Los Angeles, Miami and other cities with large Latino populations.
Lopez had a hand in designing the stores, and she designed several accessories for smartphones, including cases.