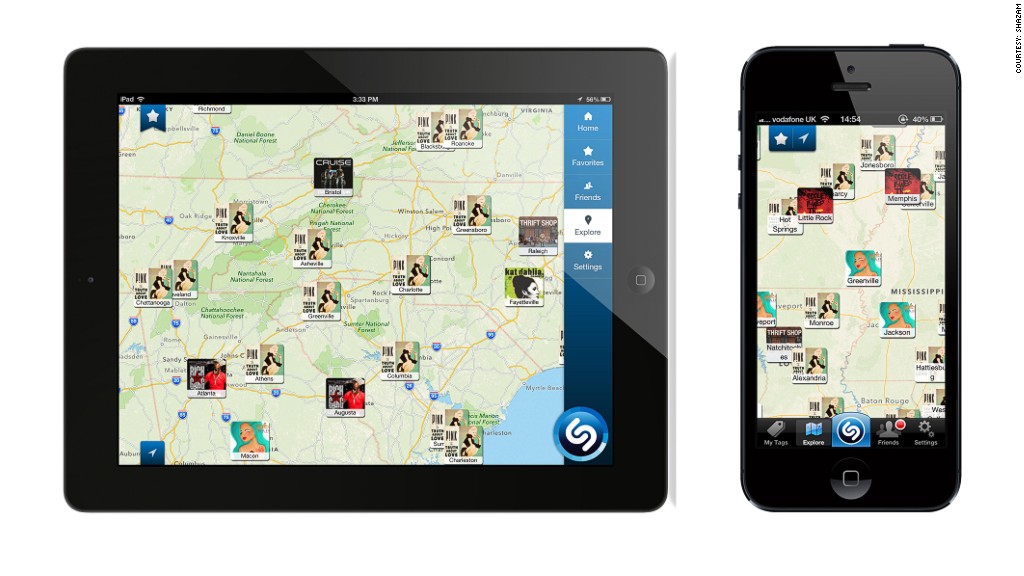 New music discovery services pop up every month, but Shazam hopes to stand out with a totally overhauled new iPad app.
Shazam's existing song-identification app is already popular, with 300 million global users. The update released on Thursday revamps the app's old features, and includes a slate of new ones focused on location data, popular tracks, social media options and faster tagging. Some of those features are available on a new iPhone app as well, but Android users will have to wait.
The iPad update includes a homescreen focusing on hot songs and TV shows: a Shazam Tag Chart displays most-tagged titles, and interactive maps show popular songs by location. "Auto-Tagging" lets users set the app to "tag" songs in the background until the feature is turned off.
Song tagging is faster -- "as little as one second," the company says. Sharing activity to social networks like Facebook (FB) and Twitter is much simpler, and a revamped Shazam Friends feature lets users check out their connections' favorite tracks.
"The focus at Shazam is to be continue to be active in music discovery, and all of the features in the new launch are really consistent with that," said Shazam's new CEO, Rich Riley.
But music discovery has become a major focus for rivals, too, as the streaming-music market becomes saturated. Though Shazam's tagging focus differs from pure streaming apps, they certainly overlap -- and the list of competitors is long. Spotify, Pandora (P), Rhapsody and Mog are just a small sampling.
As those streaming rivals continue to innovate, some of their features and focus align with those of Shazam. Just last week, behemoth Google (GOOG) launched its clunkily named Google Play Music All Access service, which also includes streamlined mobile apps with social features. Twitter #Music, released last month, displays songs popular with friends and with the overall community.
Related story: Google takes aim at Spotify and Pandora
Riley, who took over as Shazam CEO just four weeks ago, said the Shazam updates were in the works long before the Google and Twitter releases.
Shazam, which sold more than $300 million in music from its app last year, currently processes more than 10 million tags per day. Riley expects that figure will grow significantly thanks to auto-tagging. The company wants to add that feature to other Apple (AAPL) devices soon, and eventually roll out a new Android app as well.
But Riley, a 14-year Yahoo (YHOO) veteran who left that company in September, has much broader dreams for Shazam. After taking the CEO spot at Shazam just four weeks ago, he has made clear that he wants to expand past song-tagging to total "media engagement."
To that point, Shazam has ramped up its TV show tagging and interactivity. Using Shazam during a show pulls up information about the cast, related tweets and other information. Since February 2011, the company has also sold "Shazam-able" TV ads that let users get more information about what's shown in the commercial.
"Shazam has deep roots in music and we want people to always think of us when they hear a song in a bar and want to learn about it," Riley said, adding that the company wants users to think the same way about TV shows and Shazam.
Shazam hopes that its expansion plans will also attract Wall Street interest. The company announced earlier this year that it is preparing for an initial public offering. Riley declined to comment on a specific timeframe.