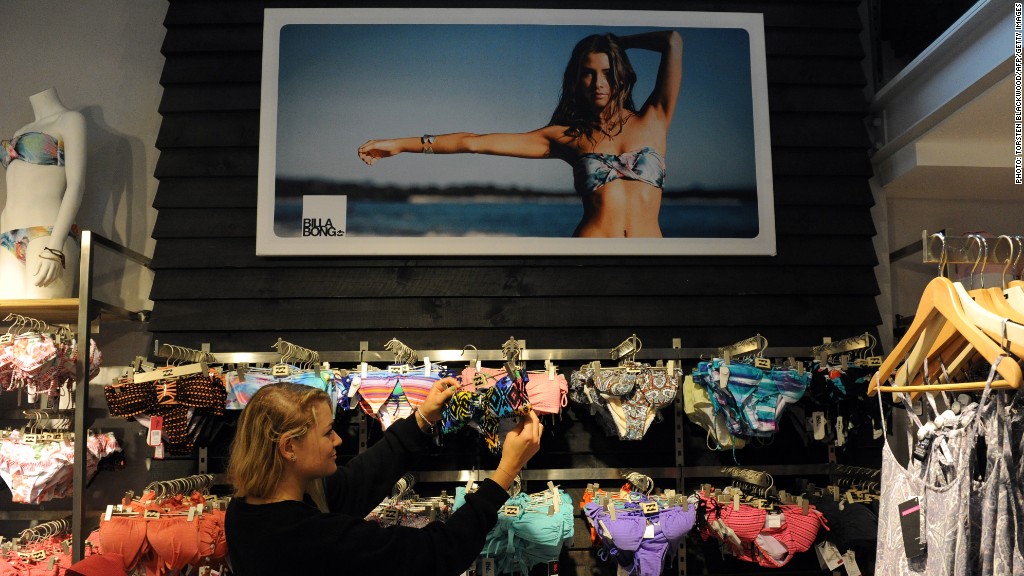 Shares of Australian surfwear company Billabong plummeted Tuesday, losing more than half their value as the company announced an end to takeover talks and warned of lower profits.
The company had been conducting takeover discussions with Sycamore Partners and Altamont Capital Partners. But a deal proved elusive, and Billabong said Tuesday it would instead begin discussing refinancing and asset sale options with the private equity firms.
The Gold Coast-based Billabong (BLLAF) has long been one of Australia's most recognizable retail brands, and its apparel products are a common sight on beaches as far away as California and Hawaii. The company has in recent years expanded its product lines and acquired brands like Von Zipper, Nixon and Element.
But the company's share price has collapsed since rejecting a takeover bid from TPG Inc. last year.
The brand's declining fortunes have been accelerated by a strong Australian dollar, which has made the company's products less appealing to overseas buyers. Billabong has also struggled under a heavy debt load.
Related story: Australia, China strike deal on currency
Billabong shares trading in Sydney hit an all-time low of 19 Australian cents on Tuesday before mounting a modest recovery. Shares were trading around A$1.50 a year ago, and topped A$10 during the second half of 2008.
Billabong Chairman Ian Pollard said that a refinancing would allow the company to continue its "reform agenda."
"It's our intention to conclude these discussions as soon as practically possible while aggressively reducing costs across all our global operations," he said.
At the same time, the company delivered bad news about its current performance. Billabong said it now expects annual profits of A$67 million to A$74 million, lower than the previously forecast range of A$74 million to A$85 million.
The company also signaled a willingness to part with Canadian retail chain West 49, a possible first sale and capital injection.