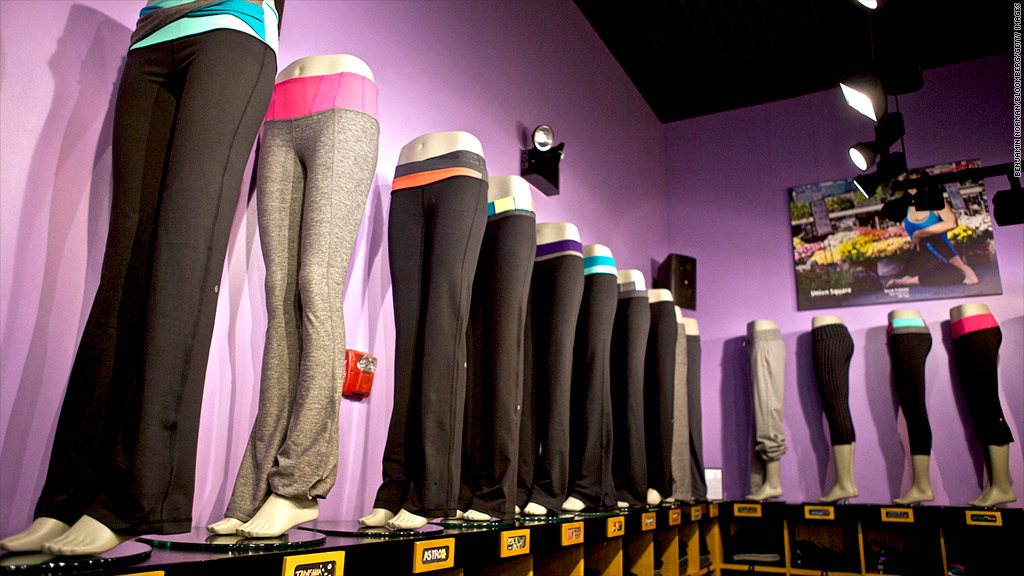 Retailer Lululemon is bringing back its black luon yoga pants after making changes in the material to solve a problem that made them see-through.
The store pulled the pants from its stores in March after it was discovered that some of the pants became too sheer when the wearer would bend over. The pants that were pulled had accounted for 17% of the company's sales before the recall.
The problem forced the company to cut its revenue and profit forecasts and led to the departure of its top products executive.
Lululemon announced in a blog post that it re-engineered the material used to make the pants to minimize the stretching of the fabric.
"Basically, that means there's now more fabric across the bum so it's not stretched from the get-go," said the blog post. "Luon is a knit fabric -- if you stretch a knit fabric far enough, it will go sheer. That's why the right fit is key."
The company said it will be increasing inventory levels of the pants throughout the month of June. It said the reduced annual sales guidance it gave in March at the time of the recall remains in place.
Related: Lululemon -- the downside of selling hot pants
Lululemon is due to report results Monday for its fiscal first quarter, which ran through April. Analysts surveyed by Thomson Reuters are forecasting a 6% drop in earnings despite a 19% gain in revenue in the period.
Shares of Lululemon (LULU) rose nearly 2% Monday following the blog post, and were up again in premarket trading Tuesday. Shares tumbled 5% in the days immediately following the recall, but have since recovered to climb 26% through Monday, when it closed near an all-time high for the stock.