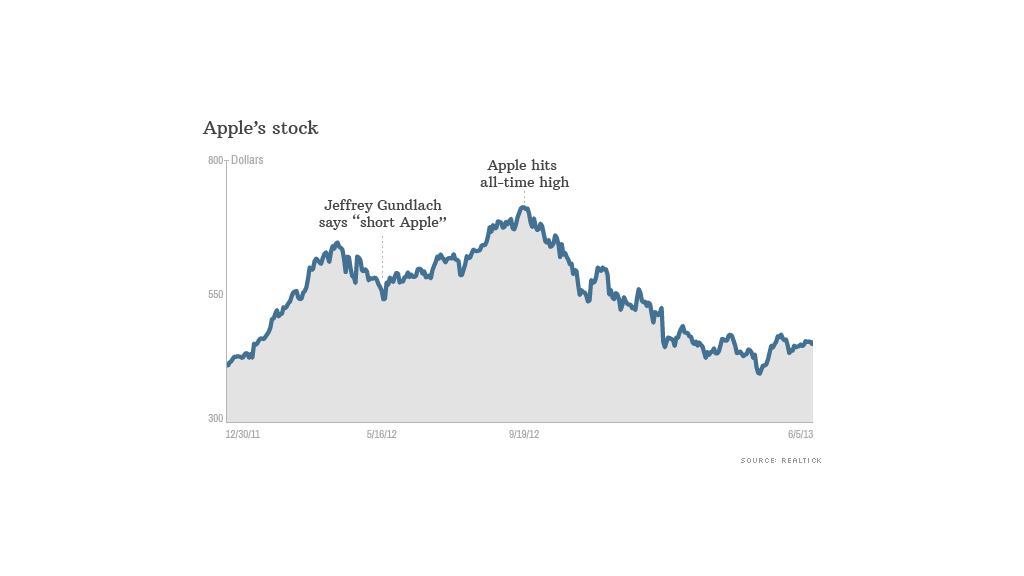 The world has lost faith in Apple and Tim Cook, but fund manager Jeffrey Gundlach is a buyer.
That's a big shift for the Doubleline Capital CEO. Last May, when the world was still enamored with all things Apple, Gundlach made a bold pronouncement: short the stock.
At the time, the idea was almost heretical in investing circles, and betting on the stock declining seemed destined to be a losing one. Apple's stock ran up another 30% to an all-time closing high above $700 in September 2012.
That was the turning point.
Since hitting that all-time high, the stock has fallen 37% and is down 18% from when Gundlach first said that he was shorting it.
Related: Bond gurus say Treasuries are still safe
Gundlach's firm oversees $60 billion of assets, and he's well known for his prescience in timing the ups and downs of the Treasuries market.
Now when he talks Apple (AAPL), investors may be starting to listen.
"Apple has gone from being revered to nearly reviled," he said. "Now they are thought to be a tax avoider, and innovation is gone. The market has passed them by."
Gundlach's response to Apple has been more muted. He disliked the valuation last year, and since it fell below $425 in early March 2013, he's been a buyer.
"I don't have fantastic expectations for Apple, but I think it's a safe stock to own," he said.
Related: How Apple scores its lower tax bill
Moreover, he sees it as a hedge in his portfolio.
"It goes up when the market goes down," said Gundlach. "A lot of stocks look like they've carved out a top. I think Apple looks like it's carved out a base."
Gundlach says he'll remain a buyer of Apple at prices below $500. "It's cheaper than most stocks and is a solid cash flow engine for the foreseeable future."
Not all of Gundlach's short positions have worked out as well.
At this year's Ira Sohn conference in May, Gundlach recommended shorting Mexican eatery Chipotle (CMG). The stock is down a measly 2% since then.