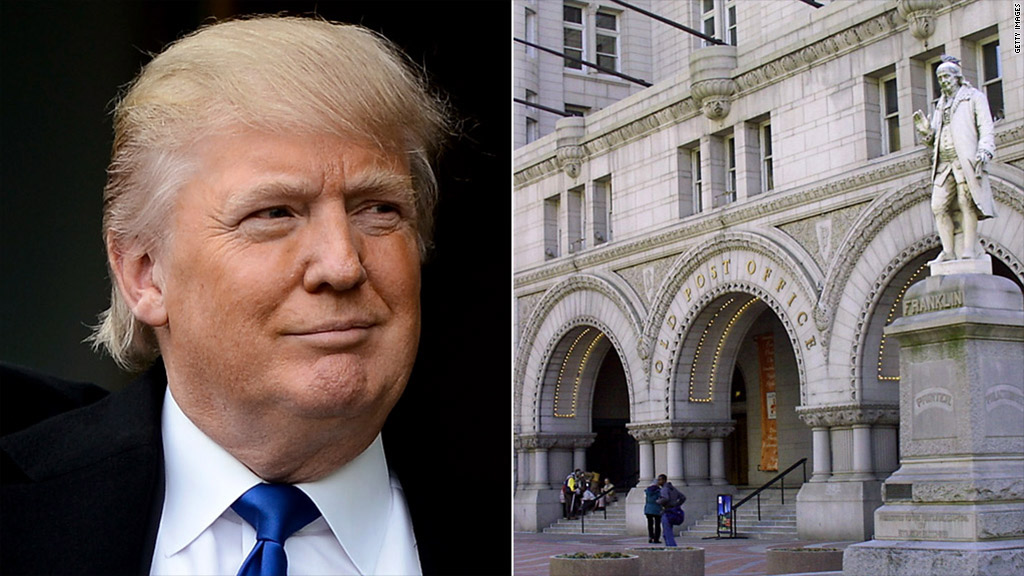 Donald Trump didn't make it to the White House, but his next hotel may not be far away.
The General Services Administration announced an agreement with the Trump Organization Wednesday to redevelop Washington's historic Old Post Office building, just a few blocks from the White House on Pennsylvania Avenue. The deal is still subject to review by Congress.
The Old Post Office -- the second-tallest structure in DC after the Washington Monument -- is currently used mainly as a government office space. It will be converted under the agreement into a luxury hotel featuring restaurants, conference facilities and an "expansive" spa, "while preserving and enhancing all of its historic features," the GSA said.
The Trump Organization is slated to receive a 60-year-lease in exchange for managing the 114-year-old building following the $200 million redevelopment.
Related: How startupts can get cheap office space
"It is a great honor and privilege to be given the responsibility of transforming one of our country's most important landmarks into what will be one of the great hotels of the world," Trump said in a statement.
Dan Tangherlini, the acting administrator of the GSA, said the agreement "will save millions of taxpayer dollars while restoring a unique and important historic asset."
The deal calls for redevelopment to begin in 2014, with the hotel opening in 2016.