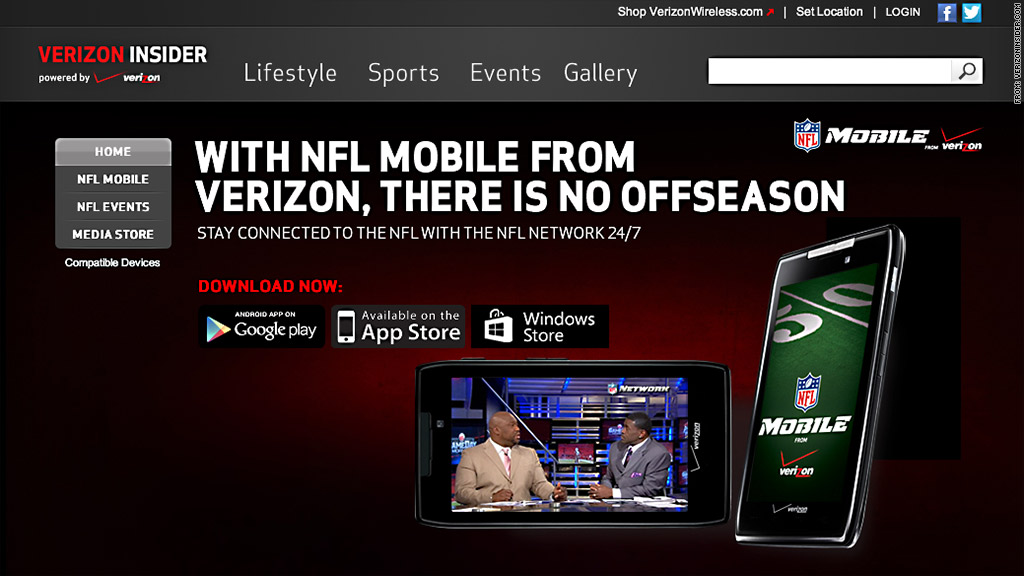 Verizon extended its exclusive deal with the National Football League yesterday, which for the first time will include the ability for subscribers to stream Sunday afternoon games and playoffs on their phones.
Beginning in the 2014 season, football fans with Verizon (VZ) phones will be able to watch the home-market feeds of CBS (CBS) and News Corp.'s (NWS) Fox Sunday afternoon NFL games via Verizon's NFL Mobile app. The new deal also will allow Verizon customers to stream all playoff games, including the Super Bowl.
Verizon customers will continue to be able to watch nationally televised games on Thursday night, Sunday night, and Monday night, which was part of the previous streaming deal inked between Verizon and the NFL.
The media-streaming deal will cost Verizon $1 billion over the next four years, according to Sports Business Daily. It was previously paying about half that amount annually.
That would make the new media-streaming deal one of the world's largest.
The field of broadcast shows signing deals with online partners has been steadily growing. In April, Yahoo (YHOO) inked a deal with Comcast's (CMCSA) NBC to exclusively stream "Saturday Night Live" skits for one year.
Related Story: Will broadcasters beat Aereo at its own game?
For the 2013 season, Verizon will launch an updated version of its NFL mobile app which provides access to news, stats, game highlights, and on-demand videos in addition to live-streamed games. The basic, free app is available on phones and select tablets but does not provide access to live-streamed games.
Currently, Verizon customers must pay $5 monthly for the premium app allowing them to watch the games live -- a feature only available on phones.