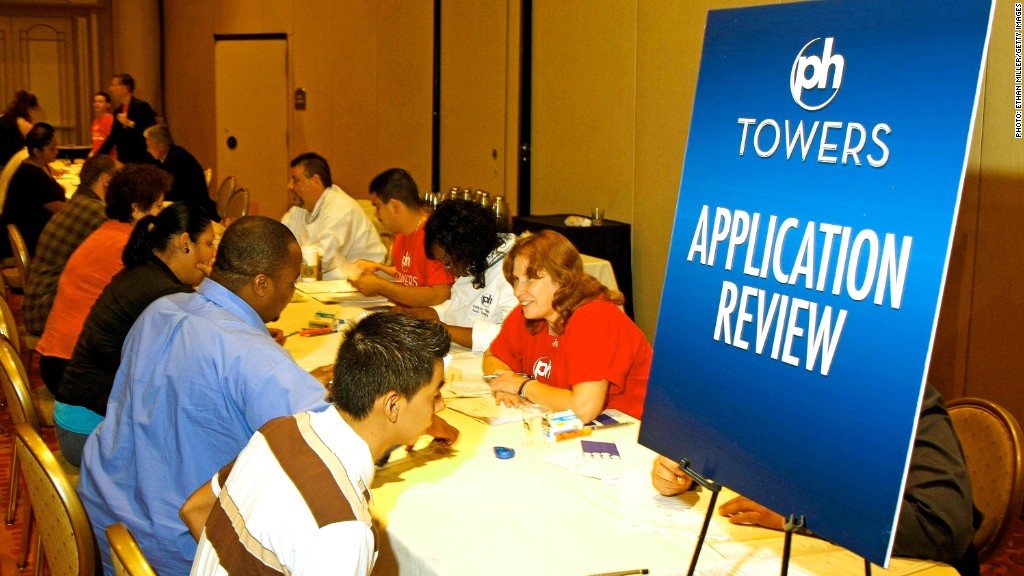 Fewer Americans filed first-time claims for unemployment benefits last week, pointing to more slow and choppy improvement in the job market.
About 346,0000 people filed initial jobless claims last week, 11,000 fewer than a week earlier, the Department of Labor said.
Jobless claims are a volatile indicator from week to week, but nevertheless are considered a key measure of layoffs. Economists often prefer to look at a four-week moving average, to smooth out some of the choppiness, and that measure rose slightly last week.
Some turnover is normal in the job market. In early 2007, before the recession began, it was common to see about 315,000 initial claims filed each week. At the height of the jobs crisis in 2009, weekly claims surged as high as 670,000.
So far in 2013, claims are hovering around their lowest levels since 2008 -- a welcome sign that firms are firing fewer workers these days.
But this question still remains -- when will businesses start hiring more new workers?
The Labor Department plans to release its key monthly jobs report on Friday morning, and economists surveyed by CNNMoney expect that report to show 158,000 jobs were created in May.
Job growth at that level is hardly remarkable. It barely keeps up with population growth. And considering the economy added an average of 173,000 jobs each month over the last year, it would point to a slight slowdown in hiring recently.
Related: Employment is still near a 30-year low
Overall, about 11.7 million people still remain unemployed as of April, but not all of them are collecting benefits.
The latest initial claims report shows 2.95 million people filed for their second week or more of unemployment benefits in the week ending May 25, the most recent data available. That marks a decline from 3 million a week earlier.