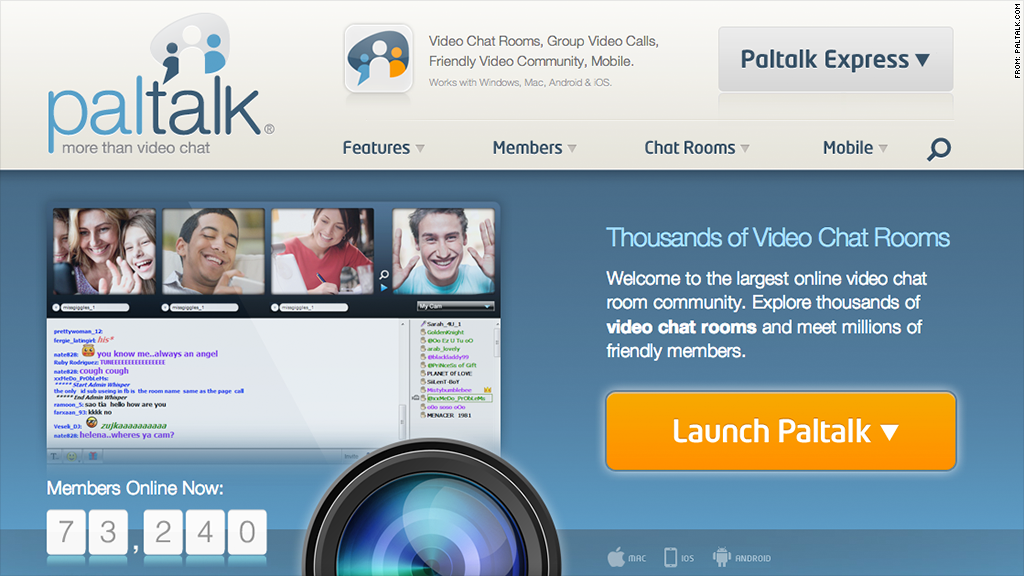 One of these things is not like the other.
The companies reportedly subjected to the National Security Agency's "PRISM" surveillance project include Google (GOOG), Apple (AAPL), Facebook (FB), Microsoft (MSFT), AOL (AOL), Yahoo (YHOO) and Paltalk. Wait -- what was that last company?
Paltalk is a video chat, instant messaging and Internet phone service that boasts 4 million global members and has been around since 1998 -- before the days of Google chat and Skype. On Friday morning there were more than 61,000 people using the company's video chat service, according to the Paltalk website.
A user base of 4 million isn't exactly puny, but compared to Facebook's 1 billion users, it's certainly small potatoes.
So why Paltalk?
Unlike other video chatting and messaging services, Paltalk is unique in that it provides chat rooms where multiple people from all over the world can communicate and stay anonymous, said Mitch Silber, the executive managing director at K2 Intelligence and former director at the New York Police Department where he oversaw terrorism investigations.
Related Story: Apps claim they can keep phone records secure
Paltalk, which is based in Jericho, N.Y., allows individuals to chat face-to-face either on a desktop computer or their mobile device. The service, owned by A.V.M. Software, also allows subscribers to video chat with up to 10 people for free and hosts thousands of free chat rooms.
Some of those chat rooms have been linked to terrorists by research conducted by the Consulting Firm Flashpoint Global Services, which researches the communications of terrorist groups and cyber criminals.
"Paltalk is routinely used by internationally recognized and designated terrorist groups for communication and recruitment," said Evan Kohlmann, a consultant for Flashpoint.
Terrorist group leaders have been known to hold open question and answer sessions on Paltalk which are advertised in advance on Al-Qaida web forums, he said.
Paltalk spokesman Philip Robertson would not comment on why the company might have been part of the PRISM program.
"We have not heard of PRISM," Robertson said in an emailed statement. "Paltalk exercises extreme care to protect and secure users' data, only responding to court orders as required to by law. Paltalk does not provide any government agency with direct access to its servers."