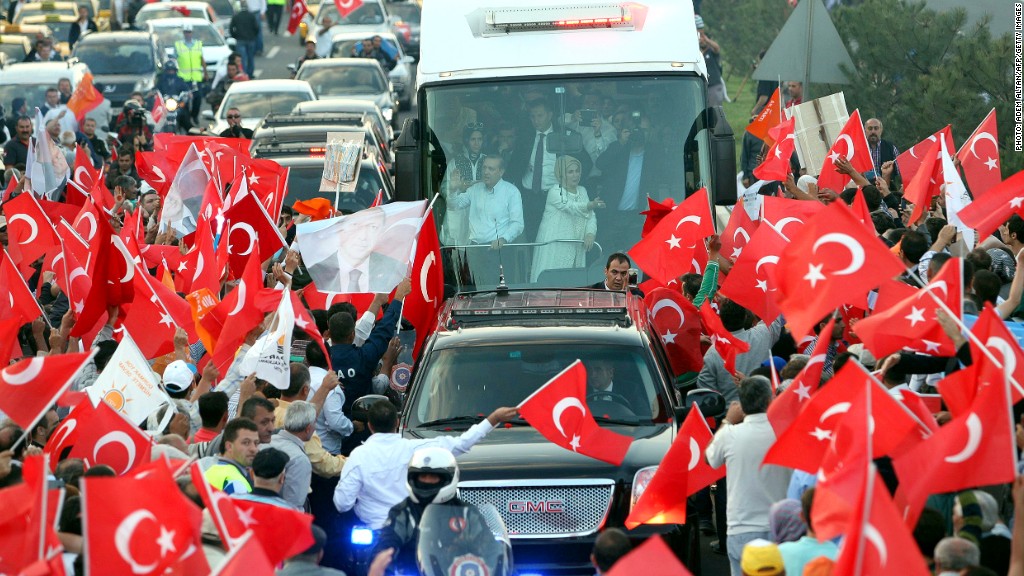 Turkish markets fell again Monday after the country's prime minister criticized anti-government protesters and accused speculators of trying to profit from the unrest.
Facing the most serious riots in his decade in office, Prime Minister Recep Tayyip Erdogan criticized the protesters' tactics and warned them that "even patience has an end."
The demonstrations began 10 days ago as a small protest over plans to build a shopping mall on the last green space in central Istanbul. They've grown since then, and spread to other cities, as disparate groups unite to accuse Erdogan's government of authoritarianism and protest against a heavy-handed response by security forces.
In a series of speeches Sunday aimed at rallying his supporters, Erdogan accused parts of the business community, including some local banks, of backing the protests. He urged Turks to put their money in state rather than private banks.
"If the stock market collapses it will not be on Tayyip Erdogan, it will be on you," he said. "The state has banks, make use of the state banks."
Turkey's benchmark index of leading shares fell by more than 1%. It has now fallen 17% since hitting a record high on May 22. The Turkish lira was also under pressure, falling 1% against the dollar. It's down nearly 6% since the start of May.
Related: Turkish protests crowdfund for NYT ad
Erdogan remains popular with many Turks because of his economic record over the past 10 years. Unemployment has been falling and Turkey has surged up global rankings for competitiveness, attracting a growing number of multinational companies to Istanbul.
Gross domestic product growth has averaged 5% over Erdogan's time in office, and his government has been credited with pursuing prudent fiscal and monetary policies while promoting investments in infrastructure, education, health and technology.
Moody's, which upgraded Turkey's debt to investment grade last month, said Monday the current level of risk was reflected in its Baa3 rating and stable outlook. But the agency cautioned that the protests come at an inopportune time, as speculation about whether the U.S. will wind down its bond buying program could reduce investor appetite for emerging markets.
"These political disturbances become increasingly credit negative the more they intensify and the longer they continue," Moody's said in a note.
Turkey is dependent on tourism revenue and foreign investment to finance its current account deficit, which in part reflects its heavy reliance on imported energy. It attracted 36 million tourists in 2012, generating about $23 billion.
"Continued protests could also deter foreign direct investment inflows, a more stable source of current account financing in Turkey," Moody's noted.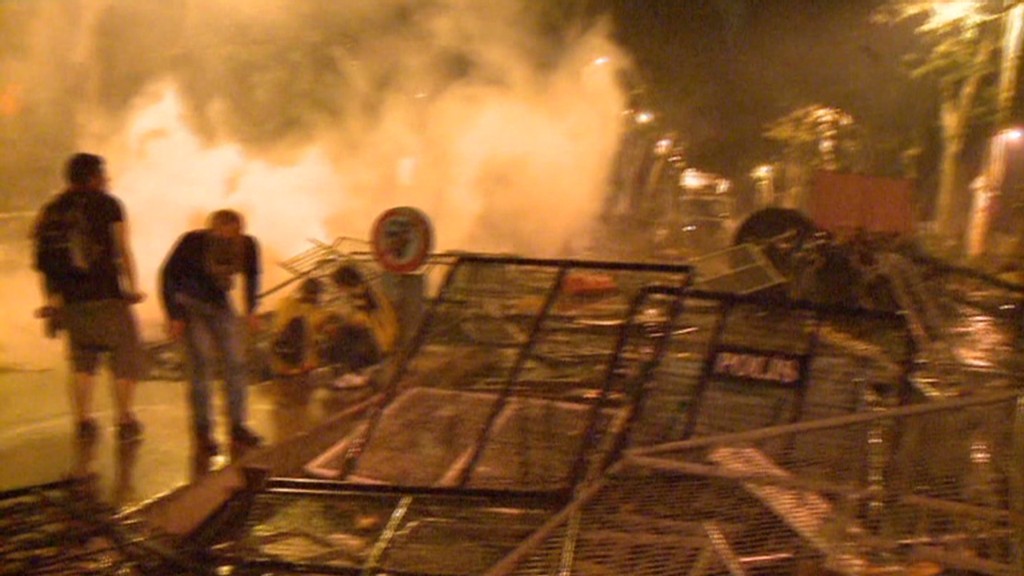 Rating agency Fitch said last week that Turkey had benefited from the recent abundance of global liquidity. It has built up reserves of $114 billion, equivalent to about five months' worth of import of goods and services.
Erdogan told protesters to make use of the ballot box if they wanted to express their dissatisfaction. The eastern Mediterranean country is due to hold local and presidential elections next year, and parliamentary elections in 2015.
Critics say Turkey's institutions have failed to develop at the same pace as the economy, and accuse Erdogan's government of not doing enough to protect civil liberties and property rights.