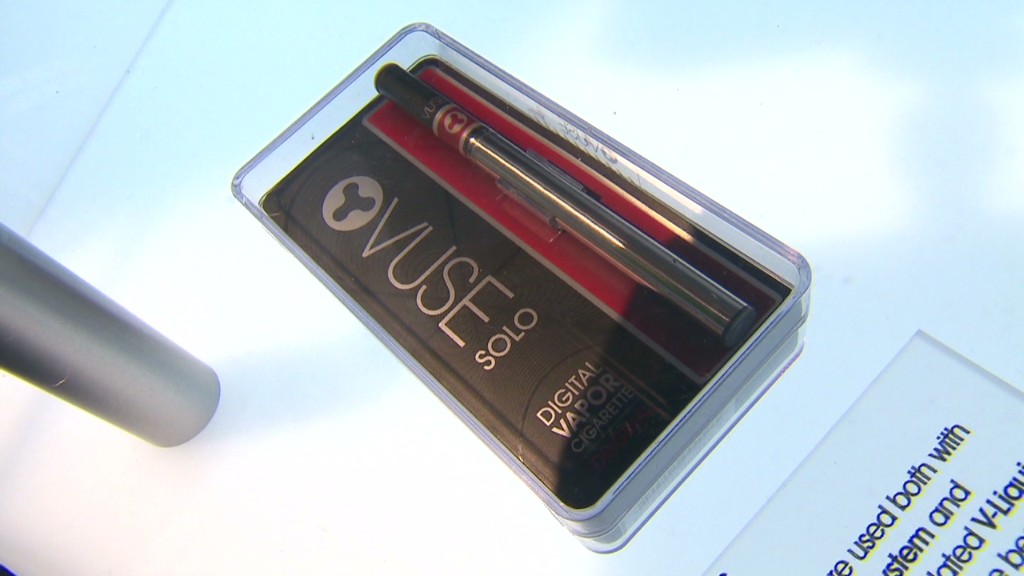 Big Tobacco is back on the airwaves.
More than four decades on from the federal ban on cigarette ads for radio and television, some of the nation's major tobacco producers are back on TV with spots featuring e-cigarettes.
Blu eCigs, a subsidiary of Lorillard (LO), kicked off an ad campaign in October with television spots featuring actor Stephen Dorff. R.J. Reynolds (RAI) is planning TV ads for its Vuse e-cigarette beginning in August.
"This is rather remarkable in that it hasn't happened in about 40 years," said Richard Smith, a spokesman for R.J. Reynolds.
The government banned radio and television ads for cigarettes in 1970. Ads for smokeless tobacco were later banned in 1986.
E-cigarettes are smoke-free electronic products that turn nicotine and other chemicals into vapor inhaled by the user. They've been pitched as an alternative to tobacco for long-time smokers, and are seen as a promising new revenue stream by some of the country's largest cigarette producers.
"Our marketing is aimed at switching adult smokers permanently to Vuse," Stephanie Cordisco, president of R.J. Reynolds Vapor Company, told CNNMoney.
Related: The lucrative business of cigarette smuggling
Blu eCigs posted net first-quarter sales of $57 million, up 46% from the last three months of 2012. Reynolds is in the process of expanding Vuse distribution, and Altria (MO) -- formerly known as Philip Morris -- plans to release an e-cigarette product later this year.
Overall, e-cigarette sales could exceed $1 billion this year, blu eCigs vice president of marketing Matt Coapman said, citing industry analysts.
The Food and Drug Administration has yet to regulate e-cigarette sales, though it is expected to do so. While the products don't carry the harmful effects of tobacco smoke, the nicotine they include remains highly addictive, and the companies make no claims about their health benefits.
"Further research is needed to assess the potential public health benefits and risks of electronic cigarettes and other novel tobacco products," FDA spokeswoman Jenny Haliski said.
For now, e-cigarette sales are regulated at the state and local level, and Lorillard and Reynolds say they support restrictions on sales to minors. Both companies claim they've consulted demographic studies to target their e-cigarette ads to adult television viewers.
"We strongly believe the kids shouldn't have access to these products," Reynolds spokesman Smith said. "We only intend to market to adult tobacco consumers."