The recent volatility in global financial markets hasn't done much to boost falling gold prices.
Despite choppy trading in stocks and bonds, gold prices have struggled to move back above $1,400 an ounce.
At the same time, the VIX (VIX), a benchmark of investor anxiety, has jumped 35% in the past month.
Gold is often seen as a safe haven when markets are volatile, since it's tangible and tends to hold value better than other assets.
But that has not been the case recently.
Gold prices have tumbled 18% so far this year, and many analysts say the metal's 12-year bull market has peaked.
"We've begun a significant turn in the gold market," said Paresh Upadhyaya, senior market strategist at Pioneer Investments.
There are several drivers behind the sell-off, including a strong dollar and rising interest rates in the United States, he said.
Related: Market volatility creating buying opportunity
Gold had benefited from its reputation as a safe haven since the 2008 financial crisis, said Upadhyaya. But the recent rise in rates, along with improving economic data, has undermined gold's allure.
"That flight to quality that gold has enjoyed is starting to lose some of its luster," he said.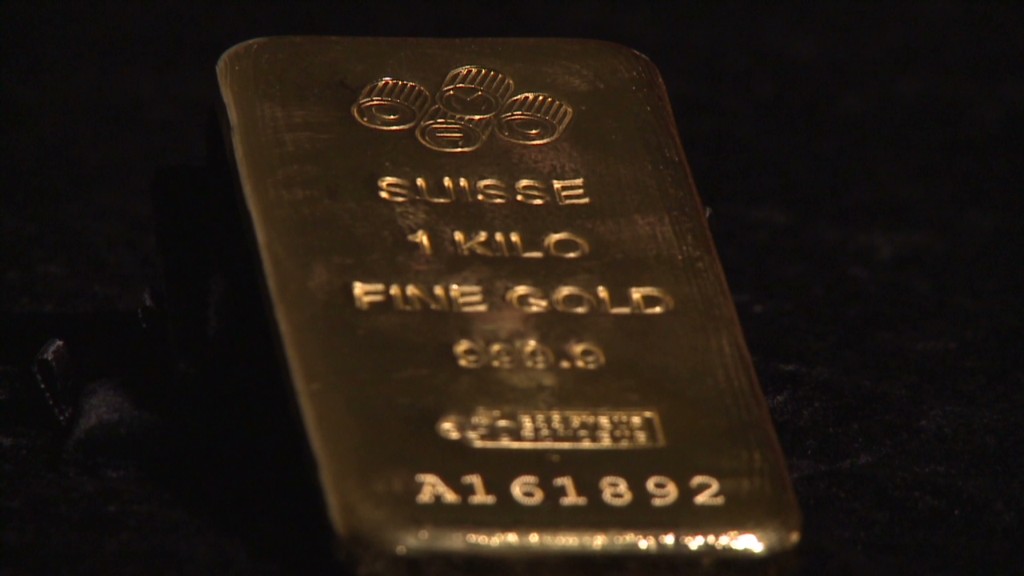 Gold has also fallen out of favor as inflation remains subdued and concerns about a collapse of the euro currency union have eased, said James Cordier, president of Liberty Trading Group.
"All the factors that had supported gold are now off the table," he said.
Gold bulls have long argued that the Federal Reserve is setting the stage for inflation by printing money and holding down interest rates.
But the latest data on inflation have been tame and some economists are now worried about deflation.
Meanwhile, the European Central Bank has quelled fears of a runaway debt crisis in the eurozone, although the region remains mired in recession.
Cordier said gold could fall to $1,200 an ounce in the near term as risk-averse investors seek higher returns in fixed-income assets.
"Gold at current levels is still incredibly expensive," he said.
Related: Gold prices drop 1%. Is $1,150 next?
Still, investors should have some "sensible" exposure to gold, said John Corcoran, a senior client portfolio manager who specializes in precious metals at Oppenheimer.
Corcoran warned that timing the gold market is tricky, and said investors should take a longer-term view.
While gold is facing short-term headwinds, Corcoran said it should benefit from a pick-up in inflation over the next few years.