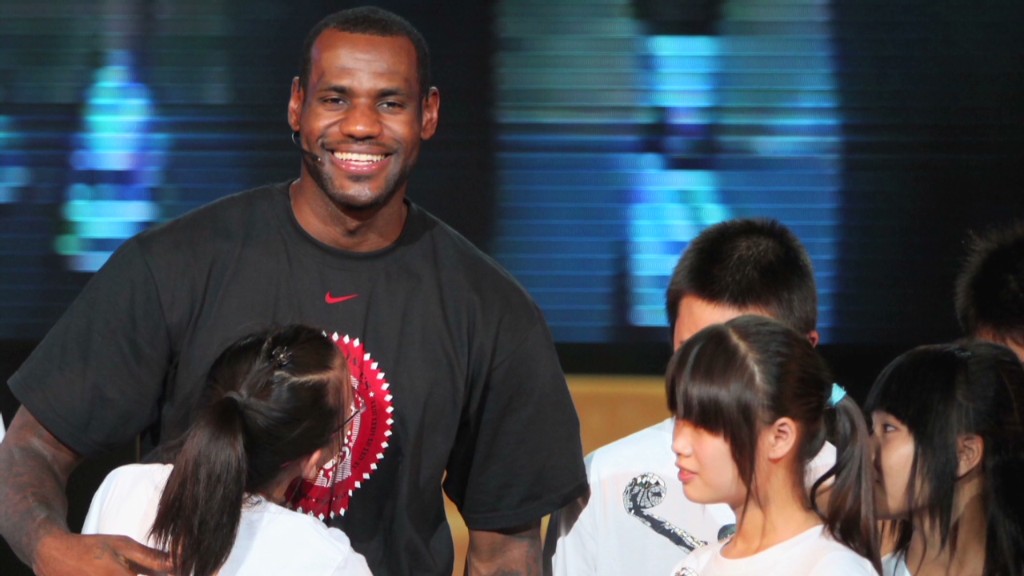 LeBron James capped his best season ever with his second straight championship Thursday night. But don't expect to see a lot more of him in commercials any time soon.
He may be a great basketball player, but endorsement experts say that off the court, he's still no Michael Jordan.
James has $39 million in annual endorsements, more than any other active athlete, according to the Fortunate 50 rankings compiled by Sports Illustrated and Fortune magazines. But Michael Jordan is still bringing in a whopping $80 million in endorsement deals a year - even though he hasn't set foot on a court in a decade.
Many fans simply don't like James. He was heavily criticized when he moved to the Miami Heat as a free agent in 2010, and his popularity plunged according to various surveys.
Related: Heat's winning streak sparks sales rush
"That was the first time we saw such a precipitous drop in appeal without something criminal happening," said Henry Shafer, executive vice president of the Q Scores Company, which conducts one such survey.
James' likability is on par with that of Mickey Rourke and rocker Gene Simmons of KISS - which isn't great company - according to a competing survey by the Celebrity DBI index.
"It certainly doesn't hurt that [James] has won two championships in a row. But it's going to be really hard for him to match what Jordan delivered on camera and how he resonated with fans," said Darin David, director of the sports consulting group at The Marketing Arm, which arranges deals between advertisers and and celebrities.
Related: Under Armour's crew of star athletes
David and others experts say that pitchmen like Jordan and Peyton Manning have a special on-screen persona that most athletes will never have, no matter how many championship titles they might accumulate.
Both Jordan and James have deals with Nike (NKE), which pays out billions in endorsement deals to athletes around the world. James also has deals with top consumer companies like Coca-Cola (KO), McDonald's (MCD) and Samsung. But commercials starring James get relatively limited air time, even during the NBA playoffs.
Related: Coming out could boost Jason Collins' endorsements
Shafer, from the Q Scores Company, said that while James has started to slowly win back sports fans, he hasn't made a lot of progress with the general public.
"It's not just about winning. It's about how you interact with the public," he said.