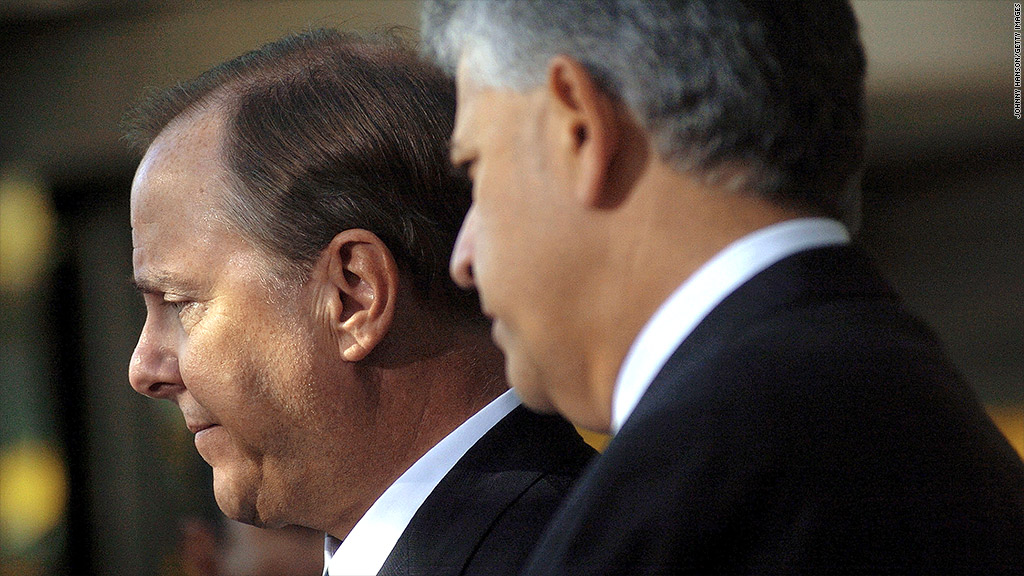 A federal judge reduced the prison sentence of former Enron chief executive Jeffrey Skilling by 10 years on Friday, closing the book on one of the most spectacular white-collar cases of the last two decades.
Skilling was originally sentenced to 24 years, the longest sentence of any Enron perpetrator, and has been incarcerated in the federal prison system since his 2006 conviction. He had been facing a release date of Feb. 21, 2028.
Related: Years of legal wrangling led to Skilling's sentence reduction
As part of the resentencing deal brokered between prosecutors and the defense last month, Skilling agreed to stop challenging his conviction and forfeit roughly $42 million that will be distributed among the victims of the Enron fraud.
"The sentence handed down today ends years of litigation, imposes significant punishment upon the defendant and precludes him from ever challenging his conviction or sentence," Acting Assistant Attorney General Mythili Raman said in a statement.
It's unclear exactly when Skilling will be released under his new 14-year sentence. The Justice Department referred questions on the issue to the Bureau of Prisons, which declined to comment.
Victims, including former Enron employees and stockholders, were invited to speak at the resentencing hearing Friday. More than 4,000 employees lost their jobs and some also lost their life savings, which were tied up in the company investment retirement plans. Investors lost billions of dollars. The name "Enron" has become synonymous with white collar crime, just as the name "Madoff" has become synonymous with Ponzi schemes.
Skilling was convicted of fraud, conspiracy, insider trading and lying to auditors during his tenure as executive of Enron, an energy-trading company that went bankrupt in 2001 amid allegations of corporate fraud and corruption.
But Skilling has maintained his innocence throughout the duration of the scandal, just like his CEO predecessor Kenneth Lay, who founded Enron.
Related: Exclusive prison interview with Bernie Madoff
Lay was also convicted, in 2006, of corporate fraud. But he died later that year at age 64 while on vacation in Aspen, Colo., just months before his scheduled sentencing.
Skilling, 59, is being held at a federal jail in downtown Houston for the duration of the court proceedings. Also known as inmate #29296-179, he usually resides at Englewood federal prison in Littleton, Colo.
Another Enron convict, Andrew Fastow, was released four years early, in 2011, after making a plea bargain.
CNN's Carol Cratty and CNNMoney's James O'Toole contributed reporting.