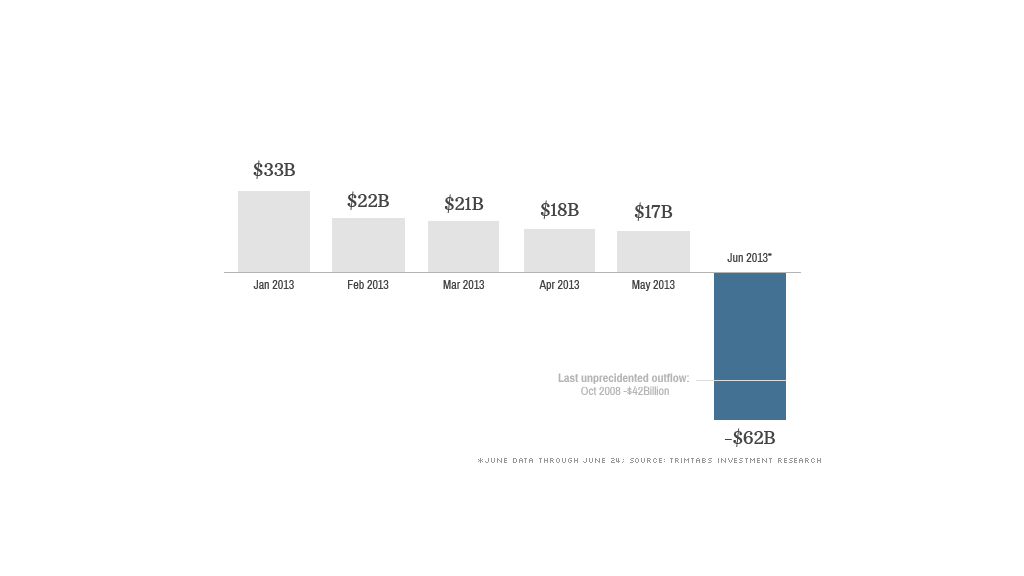 Investors are staging a mass exodus from the bond market.
So far this month, they've pulled a record $61.7 billion from bond mutual funds and exchange traded funds, according to TrimTabs.
The outflow, which surpassed the previous record of $41.8 billion at the height of the financial crisis in October 2008, is a sharp reversal of the recent trend.
Investors had plowed $111.2 billion into bond funds during the first five months of the year, but more than half of that has now been yanked out in June. And the month isn't over yet.
It's difficult to pinpoint where the money is going, said TrimTabs CEO David Santschi. But he said his "best guess" is that investors are parking it in money market funds or "bank products," such as CDs, savings and checking accounts.
"We know it's not going into equities, and we know it's not going into precious metals," he said.
According to the Investment Company Institute, investors added almost $27 billion to money market funds from May 16 through June 19. Prior to that, they had been pulling money pretty consistently this year.
The exodus from bonds comes as Federal Reserve officials, including chairman Ben Bernanke, have suggested that the central bank could taper the pace of its $85 billion-per-month bond buying program this year, assuming the economy continues to improve.
Related: Fed's Bernanke talk tab is $151 billion and counting
Investors have been dumping bonds, and driving yields higher, since early May. The yield on the 10-year Treasury note hit 2.65% this week. That's its highest level since August 2011 and sharply higher from 1.6% at the start of May. The 10-year yield hit a record low of 1.44% a little more than a year ago.
While bonds may stabilize once the current panic dies down, the sell-off has raised concerns about what many see as a bubble.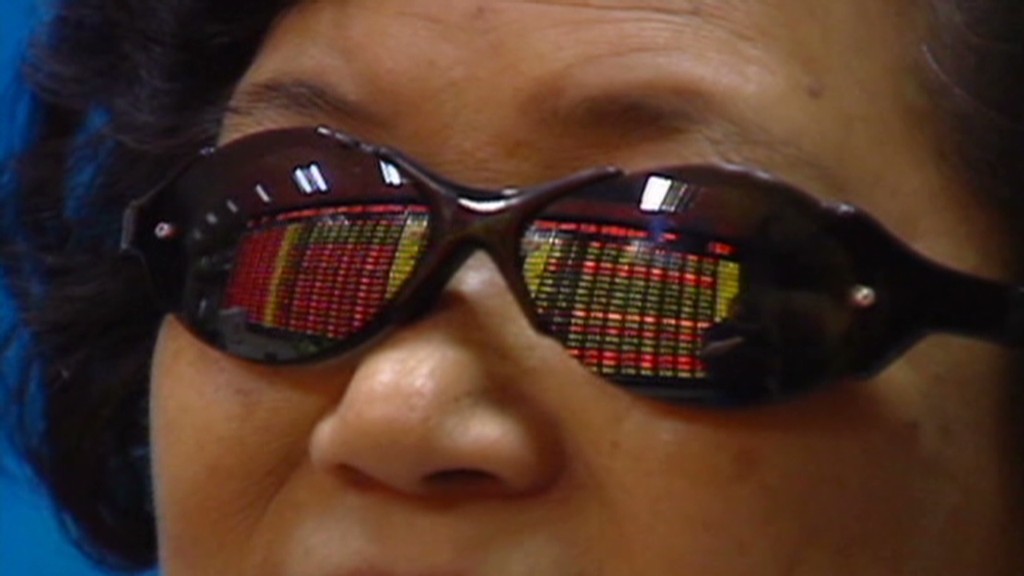 Investors put a record $1.21 trillion into bond mutual funds and ETFs from 2009 to 2012, creating "the biggest credit bubble in world history," according to TrimTab analysts.
Santschi said investors had been throwing money into bond funds "with little regard for value." They were confident, he added, "that endless central bank liquidity would inflate prices."
Now, the fear is that investors who thought bonds were safe will continue to rush out of the market as yields rise.
Related: Bonds in the bargain bin
While redemptions have been widespread, TrimTabs said foreign bond ETFs have been the hardest hit. Those funds have lost $1.4 billion, or 14.4% of total assets, so far this month.
The recent rise in interest rates has sparked a global "deleveraging" of bets on emerging markets, which had seen massive inflows in recent years thanks to the Fed's easy money policies.
By contrast, Treasury bond ETFs had more modest outflows, losing $3.3 billion, or 1.6% of total assets. ETFs that invest in corporate bonds lost $6.3 billion, or 3.7% of total assets.