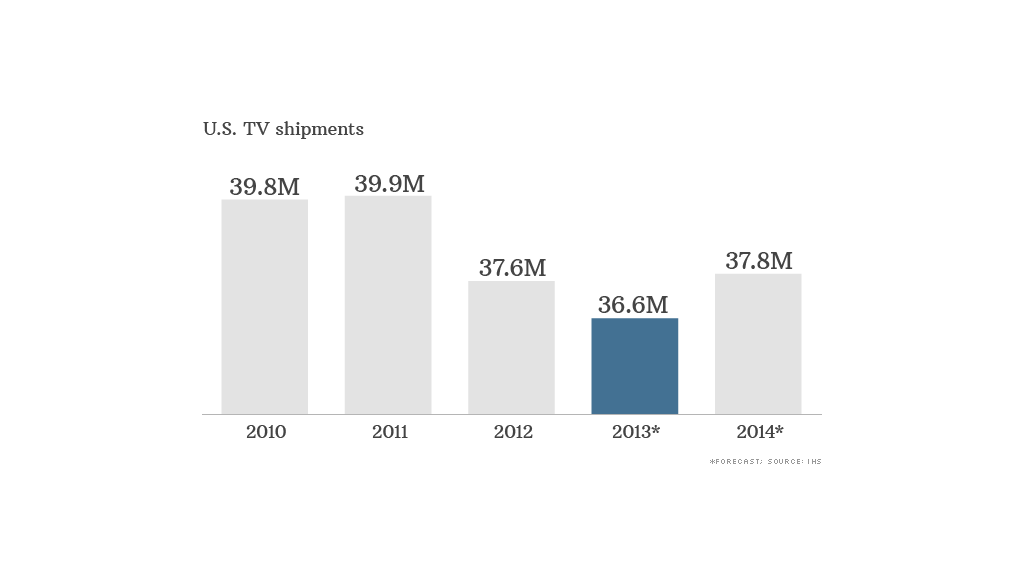 There doesn't seem to be anything that television manufacturers can do to persuade consumers to buy a new TV.
After falling 3% in 2012, U.S. LCD TV sales dropped another 11% in the first quarter of this year, according to technology consultancy IHS.
Few saw this coming just a couple of years ago. TV sales were booming as recently as 2010, when consumers were replacing their old tube sets with flat screen LCD TVs. But by 2011, two in three households in America owned at least one HDTV. That's when television sales start to hit a wall.
The trend is playing out globally, as well. Worldwide TV sales dipped by more than 6% last year and they aren't expected to return to 2011 levels until 2015, IHS has forecast. In the United States, that recovery isn't expected to happen until after 2017.
Desperate to find a TV technology that will get consumers to upgrade again, manufacturers have thrown the kitchen sink at the problem. Over the past several years, they have tried adding Internet connectivity, 3-D and ultra-high definition to their sets, but consumers have met those features with a sizable yawn.
Related story: Apple TV adds HBO Go and WatchESPN
TV manufacturers sold just 33,000 ultra-high definition "4KTVs" last year, and IHS predicts fewer than 1 million will be sold this year. To put that in perspective, IHS expects that about 37 million LCD TVs will be sold in the United States this year overall.
Television buyers have shrugged off 3-D features too. By the end of last year, only about 20% of all LCD TVs sold had 3-D capabilities. Just 14% of consumers said they expect to expect to buy a 3-D TV for their next purchase, according to a recent NPD survey.
Seeing the writing on the wall, Disney (DIS) yanked its highly touted but poorly watched ESPN 3-D TV network earlier this month.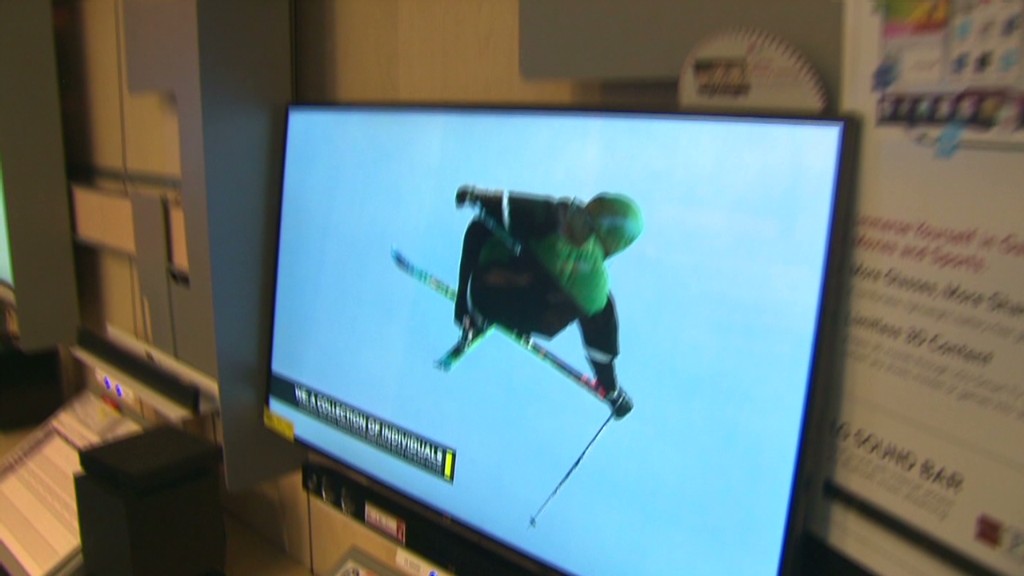 "TV manufacturers were very excited about 3-D three years ago, because they had hopes that it would help consumers refresh the primary screen in their homes," noted Ben Arnold, NPD's director of industry analysis. "Obviously, that hasn't happened."
So if none of the gimmicks have worked, what can drive sales of new TVs?
"The feature driving purchases today is size," said Veronica Thayer, TV systems analyst at IHS.
Focusing on bigger screens is a back-to-basics approach that easily resonates with consumers. Sales of super-sized LCD TV sets (televisions with screens larger than 50 inches) grew by 50% and made up more than a quarter of U.S. LCD TV shipments in the first three months of 2013 -- up from 15% a year earlier, according to IHS.
"Size is very easy to communicate to customers," noted Arnold. "Internet connected features are a difficult thing to explain and harder to sell at retail."
Adoption of streaming services directly on televisions has been pitiful so far. Most people continue to watch Netflix (NFLX), Hulu and other services on their laptops, or via a video game console or set-top box like Apple TV or Roku.
Related story: Apple needs the iTV soon
But the focus on big TVs has ironically helped boost sales of the very features manufacturers have been desperately trying to sell over the past three years.
3-D television set sales are up about 5%, in the first quarter. Giving up on selling 3-D as a standalone feature, manufacturers have begun including 3-D as a built-in perk of bigger sets. Internet-connected TV sales are growing at a similar clip for the same reason.
Sales of big TVs might be giving 4KTV a boost too. IHS expects sales of the ultra high-definition televisions to triple next year and reach nearly 21 million in 2017 -- more than half of the market.
So if bigger and bigger TVs can boost sales for TV manufacturers, the industry may not have to hold out for the long-awaited but yet-to-be-delivered iTV from Apple (AAPL) to be its savior after all.