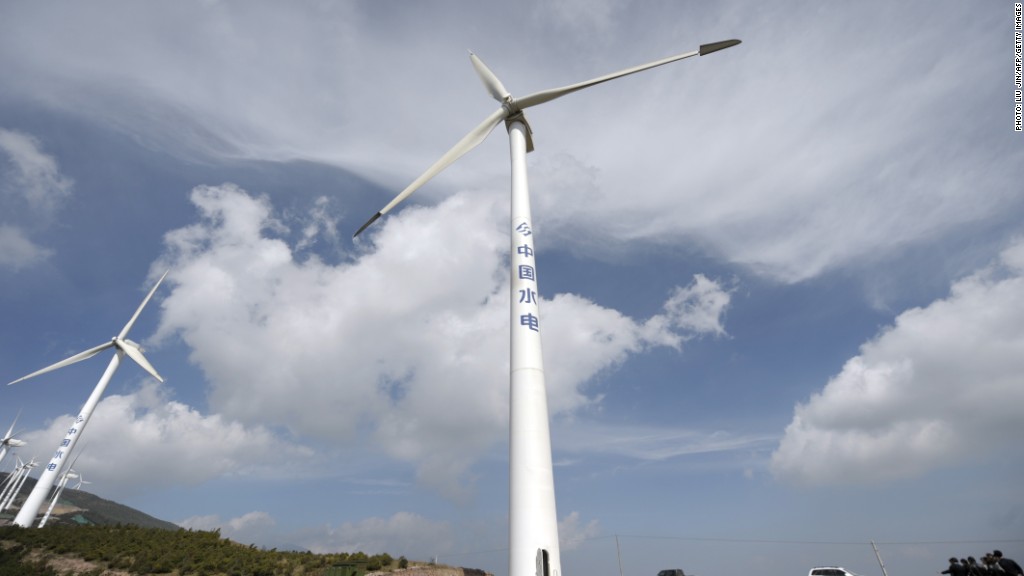 The U.S. Department of Justice has charged a Chinese wind turbine firm and two of its employees, alleging the group stole trade secrets from an American supplier in an act of "attempted corporate homicide."
The Chinese company -- Sinovel -- is one of the country's largest producers of wind turbines. It is accused of encouraging an employee of U.S.-based AMSC (AMSC) to steal copyrighted source code from a computer in Wisconsin for use in its turbines.
Sinovel then used the technology in four turbines that were sold to customers in Massachusetts and installed not far from AMSC's headquarters.
"The fact that Sinovel has exported stolen American intellectual property from China back into the United States -- less than 40 miles from our global headquarters -- shows not only a blatant disrespect for intellectual property but a disregard for international trade law," AMSC CEO Daniel McGahn said in a statement.
Sinovel did not immediately respond to requests for comment.
PM3000, the software in question, helps regulate the flow of electricity from turbines to electrical grids. The theft resulted in a loss of $800 million for AMSC, according to the indictment handed up by a federal grand jury in Wisconsin.
Some 500 AMSC employees have lost their jobs following Sinovel's "egregious and unlawful behavior," McGahn said.
Related: EU-China trade spat widens
"The allegations in this indictment describe a well-planned attack on an American business by international defendants -- nothing short of attempted corporate homicide," U.S. Attorney John Vaudreuil said in a statement.
A conviction could carry penalties approaching $5 billion for Sinovel, as well as lengthy prison sentences for the accused individuals.
The U.S. has recently adopted a new strategy for combating what officials see as a persistent threat to the American military and economy: It has started naming China -- and its armed forces -- as the source of actions that pilfer military, trade and industry secrets.
The change in tactics follows years of virtual silence from American officials on the issue. The government's claims have been bolstered by a growing number of security firms and companies who say they have fallen victim to intellectual property theft attacks emanating from China.
President Obama raised the issue earlier this month during a summit with Chinese President Xi Jinping, but the meeting did not produce a publicly-announced breakthrough.
"It's quite obvious now that the Chinese senior leadership understand clearly the importance of this issue to the United States," White House National Security Adviser Tom Donilon said after the summit.