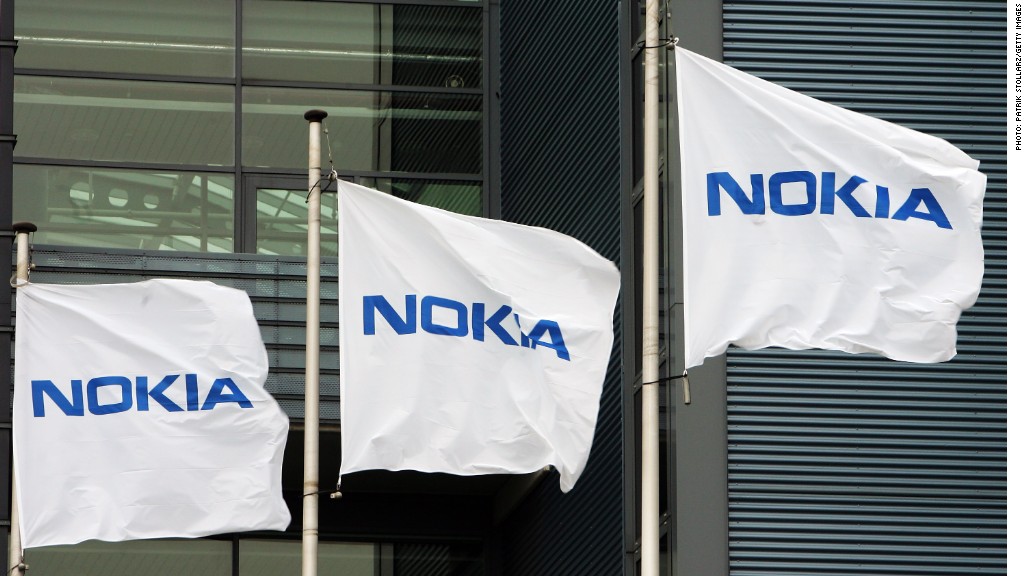 Nokia shares popped higher Monday after the company bought Siemens out of their profitable joint venture in telecoms networks.
The Finnish company paid 1.7 billion euros ($2.2 billion) for Siemens (SI)' 50% stake in Nokia Siemens Networks, a move which broadens its range of strategic options and buys time as it attempts to revive its ailing handset business.
Nokia (NOK) has been searching for a way to return to profit after falling way behind rivals like Apple (AAPL) and Samsung (SSNLF).
Sales of its Lumia handset jumped 27% in the first quarter but group revenue plunged and it posted an operating loss of 150 million euros.
Nokia Siemens Networks, which competes with China's Huawei and ZTE Corp (ZTCOF), returned a healthy profit in the first quarter, helped by its focus on 4G Long Term Evolution (LTE) networks.
"Nokia Siemens Networks has established a clear leadership position in LTE, which provides an attractive growth opportunity," Nokia Chief Executive Stephen Elop said in a statement.
Related: Nokia Lumia 928: Design is not enough
The Nokia Siemens Network price tag was lower than analysts were expecting and Nokia's Helsinki-listed shares jumped as much as 10% before trimming gains to stand around 7% higher at 3.05 euros.
"We also believe Nokia is acquiring this asset at a very attractive price, well below what an initial public offering or trade sale could bring in the future," Liberum Capital analysts said in a research note.
Nokia plans to announce a new name and brand for its networks equipment unit when the transaction closes during the third quarter of 2013.
Related: Blackberry shares nosedive
Nokia Siemens Networks' management team will be retained and it will continue to be based in Espoo, Finland, with a strong presence in Germany.
The joint venture was established in 2007, combining Nokia's networks business and Siemens' carrier-related operations for fixed and mobile networks.