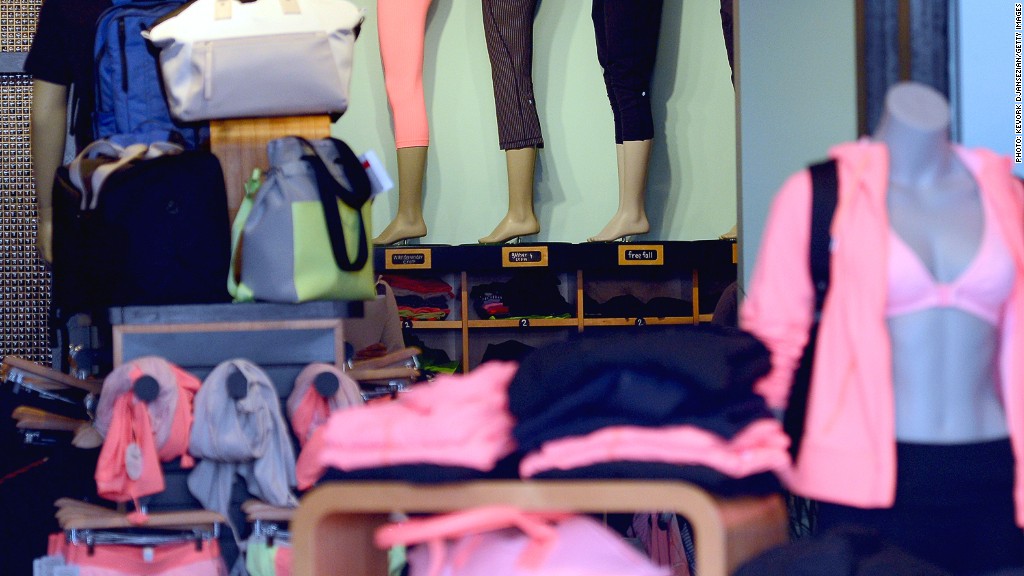 Investors have filed a class action lawsuit against Lululemon Athletica for allegedly making "false and misleading statements" to conceal the costs associated with its see-through yoga pants debacle.
The lawsuit, filed in U.S. District Court for the Southern District of New York, seeks to recover investors' damages from the 17% stock price plunge on June 10, when the company announced first-quarter results and Chief Executive Christine Day left the company.
In March, Lululemon recalled black yoga pants that were unintentionally see-through. The stock initially fell 6% on the news, but rose 24% during April and May, when the lawsuit alleges the company made positive statements despite knowing there were serious issues, including discussions to replace Day as CEO.
The suit says that between March and June, executives at Lululemon (LULU) failed to disclose "quality defects in the Luon yoga pants ... [which] "resulted in part from Lululemon's efforts to cut costs in order to raise profit margins to the detriment of product quality and brand reputation."
Related: Lululemon's fake CEO job posting gets 160 applications
The class action suit is open for more investors to join in.
"The lawsuit is generating a lot of interest and we've heard from a lot of investors ... seeking to join the lawsuit," said David Rosenfeld of Robbins Geller Rudman & Dowd. He declined to say how many investors have already signed on.
Lululemon did not return calls from CNNMoney.
Related: Lululemon's department CEO: 'My values include discretion'
The recalled pants, which the lawsuit described as "very thin" and "overly translucent," amounted to 17% of all women's pants sold in Lululemon stores. Sheree Waters, chief product officer for the Vancouver-based yoga retailer, stepped down in April. The debacle cost the company between $12 million to $17 million, according to estimates from earlier this year. The stock has fallen 13% overall this year.