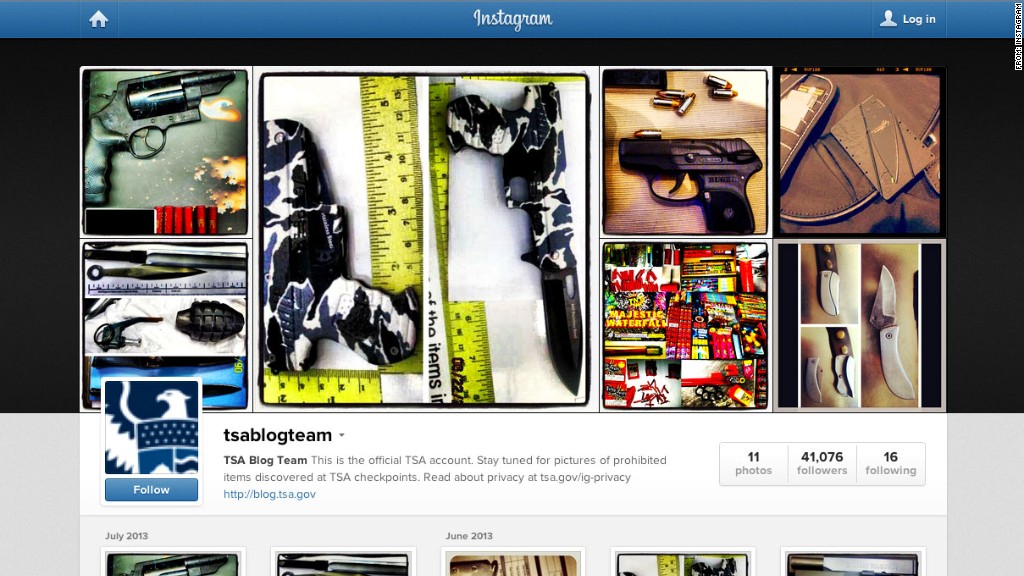 Psst, wanna see some artsy photos of guns and knives? Check out a new U.S. government social media account.
On June 27, the Transportation Security Administration began posting photos on Instagram of confiscated guns, knives, fireworks and even a stun gun disguised as a pack of Marlboro cigarettes. With just 11 photos posted, the TSA has already attracted more than 40,000 followers.
TSA's blog team writes descriptions of the items. "Fireworks don't fly. (On planes)," the team wrote on a picture of confiscated fireworks a week before July 4.
Readers are chiming in, too. A photo of a firearm discovered in a carry-on bag, loaded, at the airport in Albuquerque garnered more than 800 "likes" and 100 comments.
The Instagram account is a way to engage with the traveling public, according to a TSA spokesman.
Sometimes the blog team responds to comments. In one reply, it explained how passengers who try to go through security with a firearm usually get a citation and can face a fine as high as $7,500. The exact penalties vary in each state.
It's not only guns and weapons that are prohibited in your carry-on. The TSA also prohibits more common items like some scissors, baseball bats, and, of course, liquids and gels in containers larger than 3.4 ounces. The contraband often ends up in state-run stores, where the items are heavily discounted.
Those commenting on the TSA's posts include some critics ("Maybe tagging guns as #instacool and #instagood isn't the best idea," one wrote), but the account also has fans. "Post more often, this is amazing and informative!!" one Instagram user wrote.
TSA's bloggers are social-media enthusiasts. The agency also posts videos to YouTube that offer tips on making the screening process easier and offers real-time help to travelers via Twitter.