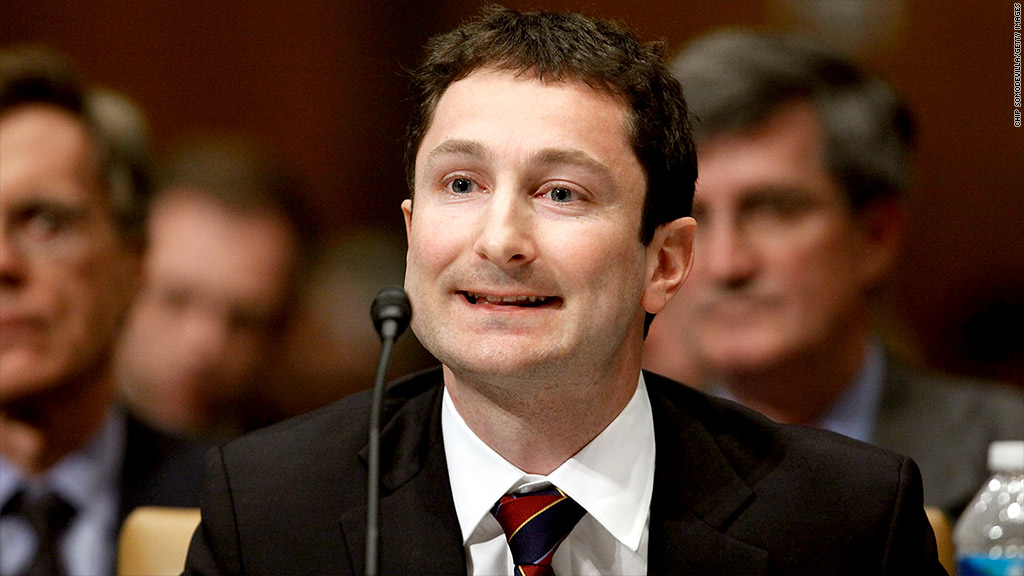 An upcoming court case will decide the fate of Fabrice Tourre, the French-born former trader from Goldman Sachs who officials are portraying as a poster child for Wall Street malfeasance.
Tourre once described himself as "the fabulous Fab" in e-mails uncovered by the Securities Exchange Commission. Next week, he goes on trial in federal court in New York, and faces a possible financial hit if found liable.
The SEC has accused him of fraud for concealing the compromised value of collateralized debt obligations from investors while working for Goldman Sachs (GS) as a vice president in 2007.
In particular, Tourre is accused of misrepresenting a portfolio of real estate investments named Abacus to investors and ACA Financial Guaranty, without revealing that hedge fund Paulson & Co. was betting against the portfolio.
"The SEC essentially argues that Tourre handed Little Red Riding Hood an invitation to grandmother's house while concealing the fact that it was written by the Big Bad Wolf," Judge Katherine Forrest wrote in a recent court document. "Tourre disputes the SEC's characterization writ large and also points out that the alleged victims were not be-hooded children, but rather large financial institutions, operating in a dog-eat-dog world."
If Tourre is found liable, he could be fined, and the SEC could also force him to forfeit ill-gotten profits.
Related: Prison exclusive: Bernie Madoff can't sleep
A nine-person jury will be selected starting Monday. Lawyers for both sides will then make opening statements, and witnesses are scheduled to begin testifying. The trial is expected to last about three weeks, according to the judge.
Tourre has denied any wrongdoing and continues to fight the accusations.
"Fabrice Tourre has done nothing wrong," his lawyers said in a statement. "He is confident that when all the evidence is considered, the jury will soundly reject the SEC's charges."
In one of its more damning allegations, the SEC uncovered one of Tourre's e-mails, written in French and English to a girlfriend, where he described himself as the lone, "fabulous" survivor amidst the financial fallout created by his trades.
"More and more leverage in the system, the whole building is about to collapse anytime now ... Only potential survivor, the fabulous Fab ... standing in the middle of all these complex, highly leveraged, exotic trades he created without necessarily understanding all of the implications of those moustruosities[sic]!!!" wrote Tourre on Jan. 23, 2007, according to SEC documents.
Abacus plunged in value shortly after it was issued. Paulson profited by $1 billion as investors lost $1 billion.
Related: Ex-Enron CEO Skilling gets 10 years lopped off sentence
In 2010, the SEC fined Goldman Sachs $550 million for its role in the Abacus case, with $300 million earmarked for the U.S. Treasury and $250 million to be returned to burned investors. Britain's Financial Services Authority fined Goldman Sachs International about $27 million for not disclosing that it was being investigating by the SEC.
Tourre has left Wall Street. A graduate of Ecole Centrale Paris who also holds a master's in operations research from Stanford University, he has returned to academia.
Tourre is now a student at the University of Chicago and taught a course there earlier this year called "Theory of Income II."