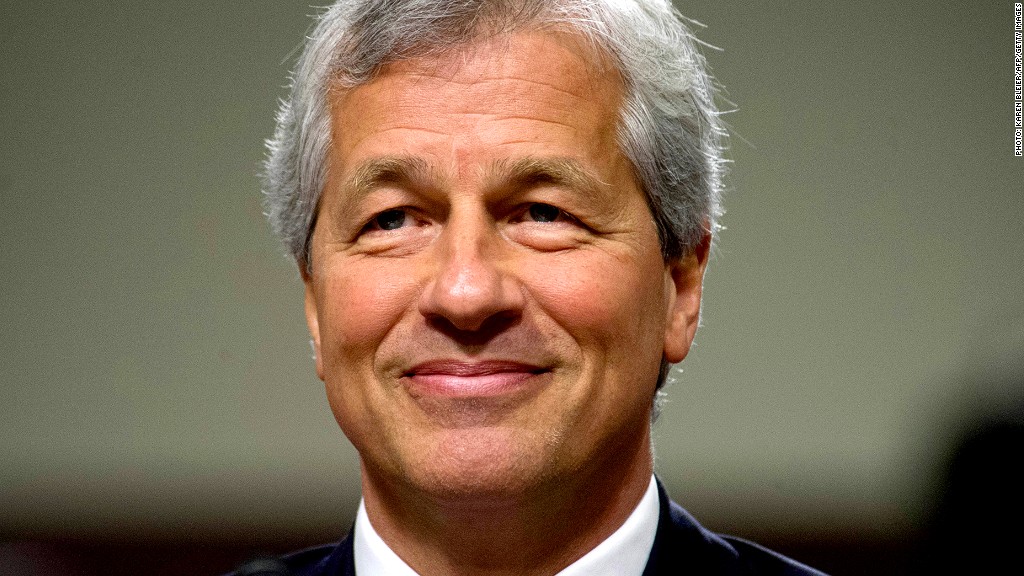 JPMorgan's profits surged in the second quarter, though the results were not as rosy as they first seem.
Total loans the bank made were down slightly. And some of the profit gains came from accounting entries rather than strong growth in the underlying business.
"The headline number is good, but they did get some benefit from fluff," said Dan Marchon, an analyst at Raymond James.
For example, JPMorgan decreased the amount it holds to buffer the bank against future losses from mortgages and credit card delinquencies, a move that lifts reported profits. That's reasonable in a strengthening economy. But analysts had hoped to see at least some uptick in the bank's lending activity.
Related: Are we at risk of another banking crisis?
CEO Jamie Dimon noted in a statement that consumers, small businesses and corporations remain "cautious" and that loan growth was flat across the banking industry. CFO Marianne Lake told analysts that the bank expects "modest loan growth" going forward.
Even so, Dimon was optimistic about business conditions: "We continue to see broad-based signs that the U.S. economy is improving," said Dimon. Lake also expects merger activity to to pick up in the second half of this year.
Impact of rising rates: Analysts have been debating the impact of rising rates on bank profits. Higher rates can help profits since banks can charge more for loans. At the same time, however, they stand to lose on any bond holdings.
Lake estimated that JPMorgan could book a $900 million gain if the yield on the 10-year Treasury hits 2.6%.
Dimon said it will be a bumpy road higher. "You're going to have volatility if rates go up."
In addition, rising rates will have a chilling effect on new mortgages, Lake said. But that will only affect a small part of JPMorgan's business. "As long as the economy is growing, it will help other areas of the bank."
Getting outmortgaged by Wells Fargo: Dimon acknowledged on CNBC that Wells Fargo is winning the mortgage lending game.
JPMorgan's share of the mortgage lending market has increased and will continue to do so, Dimon said, but the bank is still struggling with its hangover from its acquisitions of the mortgage units of Bear Stearns and Washington Mutual.
JPMorgan's (JPM) shares rose slightly Friday.
Related: Jamie Dimon's $5 billion bet against bonds
Second quarter by the numbers: The bank reported profit growth of 31% to $1.60 per share - Wall Street analysts had expected $1.44. Revenue was up 14% to $26 billion, versus an estimate of $24.8 billion. The results showed that JPMorgan has managed to put its London Whale trading problems behind it.
Gains in investment banking helped offset a dip in revenues from its consumer banking and commercial banking units.
The bank's investment banking division generated profits from trading and from corporate debt issuance and IPOs. "Their investment banking results show that JPMorgan continues to be best in class," said Marchon.
The bank's shares are up 25% this year.
Banking regulations: The Jamie Dimon who spends a good portion of his conference calls railing at regulators for crushing capitalism was nowhere to be seen Friday morning. In his place, there was a tempered, calm Dimon who actually praised government regulators' attempts to make banking safer.
Dimon said he expects the Federal Reserve to continue to think through its plans to raise the amount of capital it requires banks to hold. Proposed regulations could give unfair competitive advantages to banks operating outside of the United States. "We have an interest in a safe and sound system, but we are not for a hugely imbalanced playing field," Dimon said on the conference call.
JPMorgan (JPM) is the first bank to report earnings for the second quarter. Wells Fargo (WFC) also released earnings Friday, beating analyst estimates.
Due up next week: Bank of America (BAC), Goldman Sachs (GS), Morgan Stanley (MS) and Citigroup (C).