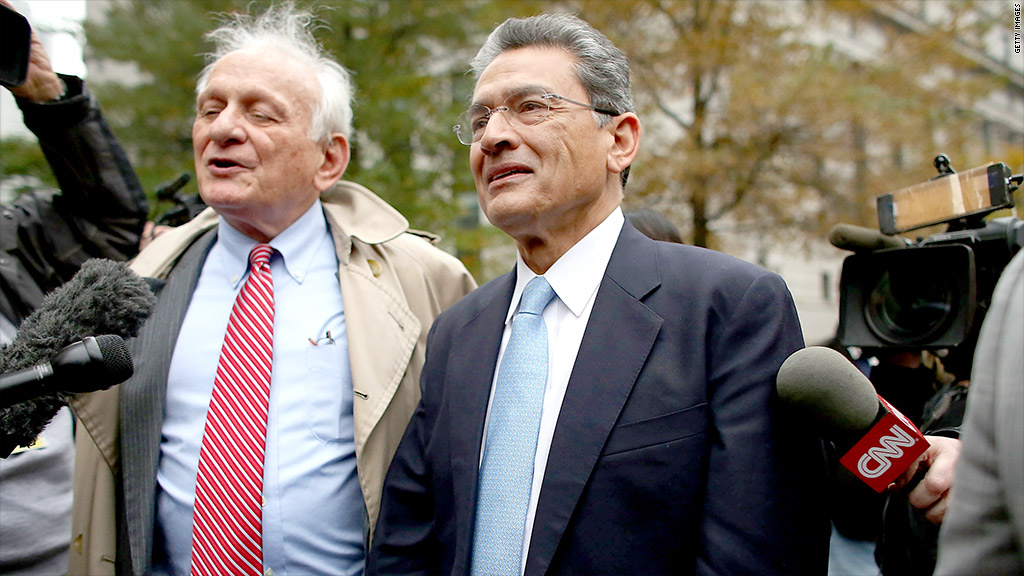 The Securities and Exchange Commission announced a $13.9 million civil penalty against Rajat Gupta on Wednesday, a sanction that follows the two-year prison term he received last year for leaking information from corporate board meetings.
Gupta is the highest-profile defendant ensnared so far in the government's ongoing insider-trading crackdown. He formerly served on the boards of Procter & Gamble (PG) and Goldman Sachs (GS) and headed the marquee consulting firm McKinsey & Co.
Last year, Gupta was found guilty of leaking information to hedge fund manager Raj Rajaratnam, who is serving an 11-year sentence for insider trading. Prosecutors said that in one instance, Gupta called Rajaratnam just 16 seconds after disconnecting from a conference call in which Goldman's board approved a crucial $5 billion investment from Warren Buffett's Berkshire Hathaway (BRKA).
Related: Wall Street sheriff says no one's too big to indict
Gupta, who was previously fined $5 million in conjunction with his criminal conviction, has appealed the verdict. His lawyer, Gary Naftalis, said at the time that Gupta "maintains his innocence" and "has always acted with honesty and integrity."
Naftalis did not immediately respond to a request for comment Wednesday.
In addition to the $13.9 million penalty, the SEC permanently barred Gupta from serving as an officer or director of a public company.
"If you abuse your position by sharing confidential company information with friends and business associates in exchange for private gain, you will be prosecuted to the fullest extent by the SEC," George Canellos, the SEC's co-director of enforcement, said in a written statement.
The SEC, which can only levy civil penalties, secured a $92.8 million penalty against Rajaratnam, a record for an insider-trading case.