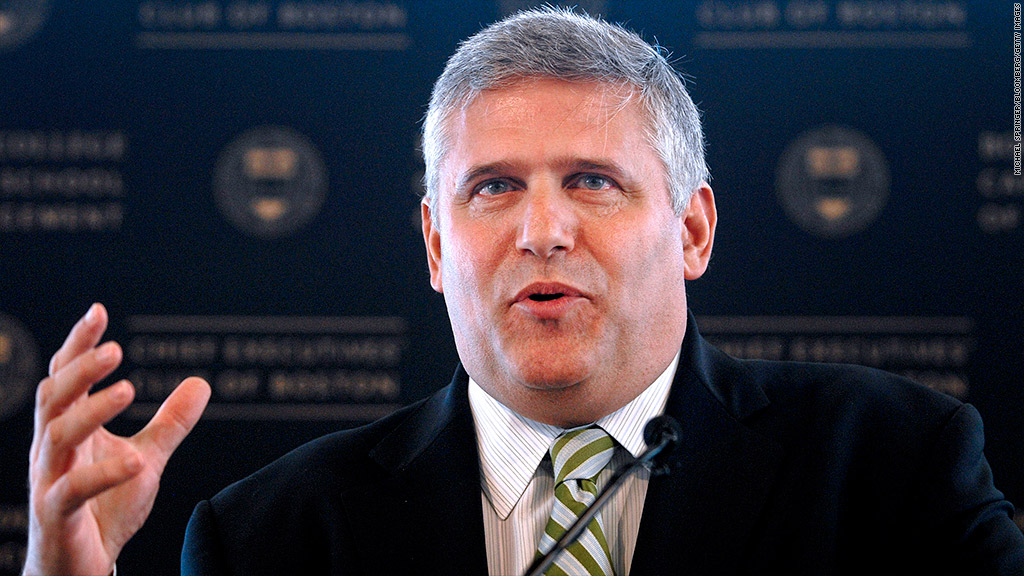 Time Warner announced Wednesday that company Chief Financial Officer John Martin will be the next head of its Turner Broadcasting division, taking over from long-time CEO Phil Kent.
Martin will move into the CEO job on Jan. 1. Kent will continue as chairman of the division beginning in 2014.
Turner operates TV properties including CNN, TNT, TBS and Cartoon Network. It is a division of Time Warner (TWX), the entertainment conglomerate that also controls HBO and Warner Brothers.
Kent took the top job at Turner in 2003, having previously served as president of CNN News Group. Under Kent's watch, Turner has scored successes with its sports and entertainment programming, booking strong viewership gains at Cartoon Network and snagging Conan O'Brien for TBS.
Weak domestic ratings at CNN, however, have been a source of frustration. In November, Kent brought in former NBC executive Jeff Zucker to head CNN in a bid to change course. Since then, CNN has seen significant ratings gains and is now, according to Nielsen, the No. 2 rated cable news network.
CNN remains solidly profitable, buoyed by lucrative contracts with affiliates and other revenue streams. Earnings from Time Warner's networks segment, which comprises Turner and HBO, have climbed steadily in the past few years, hitting $4.7 billion in 2012.
Martin became chief financial officer at Time Warner in 2008, and has spent most of the last two decades with the company. He was previously CFO at Time Warner Cable.
Earlier this year, Time Warner announced plans to spin off its Time Inc. magazine division, which publishes titles including People, Time, Sports Illustrated, Fortune and Money. Time Inc. is set to become an independent, publicly traded company by the end of this year. The company is also in the process of searching for a new CEO of Time Inc. Time Inc. posted a $9 million operating loss in the first quarter, due primarily to severance costs from a round of job cuts in the unit.
CNNMoney is a joint venture between CNN and Time Inc.
Investors had been pressuring Time Warner to streamline for years, arguing that its sprawling business divisions have held down its stock price.
Time Warner has used spin-offs before as a strategy to boost value, with two successful spin-offs in 2009: AOL (AOL) and Time Warner Cable (TWC).
The various spinoffs have made Turner Broadcasting the center of the company's operations.
In the first quarter, Turner's revenue of $3.7 billion represented 60% of Time Warner's overall revenue. That figure excludes Time Inc. results, which are already being counted separately.
Turner also produced 89% of the company's overall operating income and was key to Time Warner posting an 11% increase in net income. Analysts are forecasting an even bigger jump in profits when it reports second-quarter results next week.
-- CNNMoney's Chris Isidore contributed to this report.