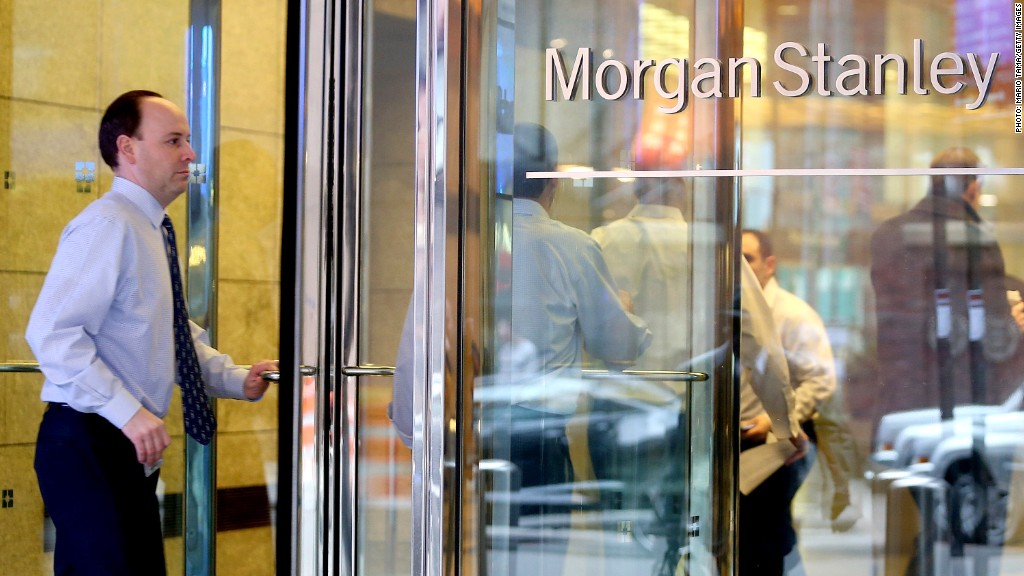 Investors were impressed with Morgan Stanley's second quarter results and its plans to buy back stock from shareholders.
The bank reported a 66% surge in quarterly profit from a year earlier, driven by strong revenue from investment banking and wealth management.
Morgan Stanley also surprised investors by announcing that the Fed had approved a $500 million share buyback plan.
Shares of the bank rallied 4%.
The latest results show Morgan Stanley is having some success in building up its wealth management business. CEO James Gorman has been trying to reshape the bank to make it less susceptible to risks. Bolstering its brokerage business is key to that transformation.
Related: Goldman Sachs' profits double
Revenues from the wealth management division jumped 10% from last year, while profits surged 60%.
During the second quarter, the bank completed its acquisition of a 35% stake in brokerage firm Morgan Stanley Smith Barney. The brokerage unit had been operated as a joint venture with Citigroup, and Morgan Stanley had been gradually buying it back. The bank took a one-time charge of 8 cents this quarter related to acquisition costs.
"The deal was a game changer for our firm for now and for decades to come," Gorman told analysts during a conference call Thursday.
Related: Bank of America profit rises 63%
While Morgan Stanley is attempting to become less dependent on trading and investment banking, it continues to benefit from both. Revenues and profits increased in both divisions last quarter.
The bank's CFO, Ruth Porat, said the bank sees a "healthy" pipeline for deals and M&A. Many deals are still stuck in that pipeline but Porat was optimistic that CEOs might be finally willing to pull the trigger on deals in the coming quarters.
The bank reported second quarter net revenue of $8.5 billion, and earnings per share of 43 cents. Excluding certain debt-related charges and charges related to Morgan Stanley Smith Barney, Morgan Stanley earned 45 cents a share.
Analysts had expected Morgan Stanley to report a profit of 43 cents per share on revenues of $7.9 billion.
Morgan Stanley (MS) is the last big bank to report quarterly earnings. Bank of America (BAC), JPMorgan Chase (JPM), Goldman Sachs (GS), Citigroup (C) and Wells Fargo (WFC), all reported earnings that soared well above expectations.