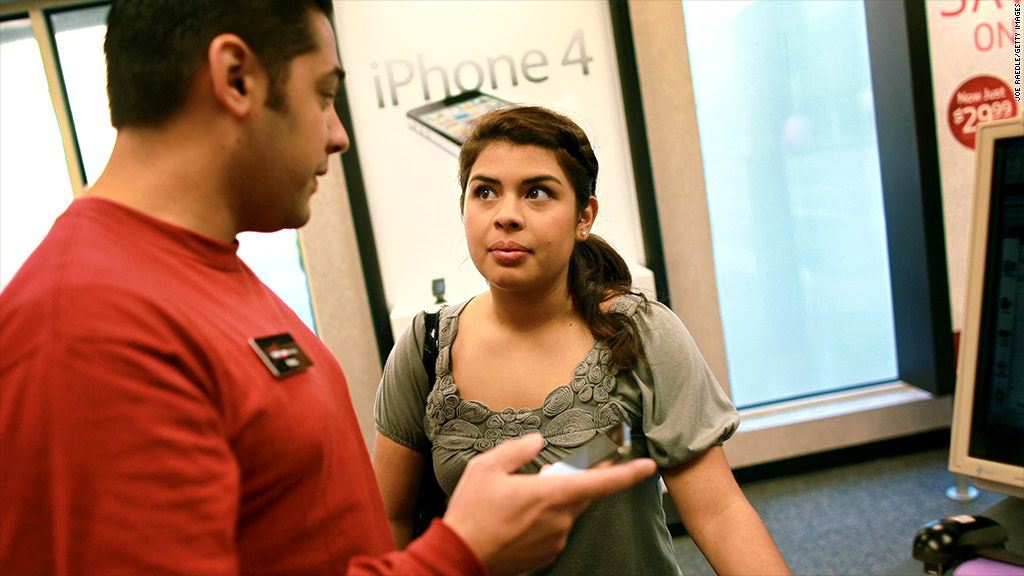 Verizon Wireless on Thursday said it activated far more iPhones than expected last quarter, drastically outpacing the number of Apple smartphones it sold in the same timeframe last year.
America's largest wireless carrier activated 3.9 million iPhones during the second quarter, 44% more than the 2.7 million iPhones it activated in the second quarter of 2012. Verizon's iPhone sales were well above Wall Street's estimate of 3.5 million. Just over half of Verizon's smartphone activations were iPhones last quarter.
Those are potentially encouraging numbers ahead of Apple's quarterly earnings report on July 23. Apple (AAPL) is expected to have sold just about as many iPhones last quarter as it did a year earlier --- nothing close to the 44% growth Verizon saw.
But U.S. wireless carriers haven't proven to be the strongest indicator of overall iPhone sales in the past. In the first quarter of 2013, for instance, Verizon's iPhone activations grew by 25%, but Apple's iPhone sales grew by less than 7%. In April 2012, both Verizon and AT&T (T) reported disappointing iPhone sales that fell 44% and 24% respectively from the previous quarter -- but that evening, Apple said quarter-over-quarter iPhone sales fell by just 5%.
Related story: Cell phone bills' hidden 17% tax
Verizon (VZ) also reported Thursday that it activated 7.5 million smartphones during the second quarter, about a quarter of which were for new Verizon customers. The company is just about done with its 4G network rollout, which is already having a huge impact on the amount of data customers download. Verizon said that a third of its devices are on the 4G network, but 4G accounts for nearly 60% of the company's data traffic.
That could pay off for Verizon down the road, as customers begin paying more and more for those gigabytes.
The second quarter wasn't all sunshine and roses for Big Red, though. The company said its wireless service profit margin came in at 49.8% -- up from a year ago, but far below Wall Street's expectations.
Kevin Smithen, an analyst at Macquarie Securities, attributed the disappointing margin to increased spending on marketing during the quarter in the wake of new promotions from rival carrier T-Mobile (TMUS).
Shares of Verizon fell about 2% on the news.