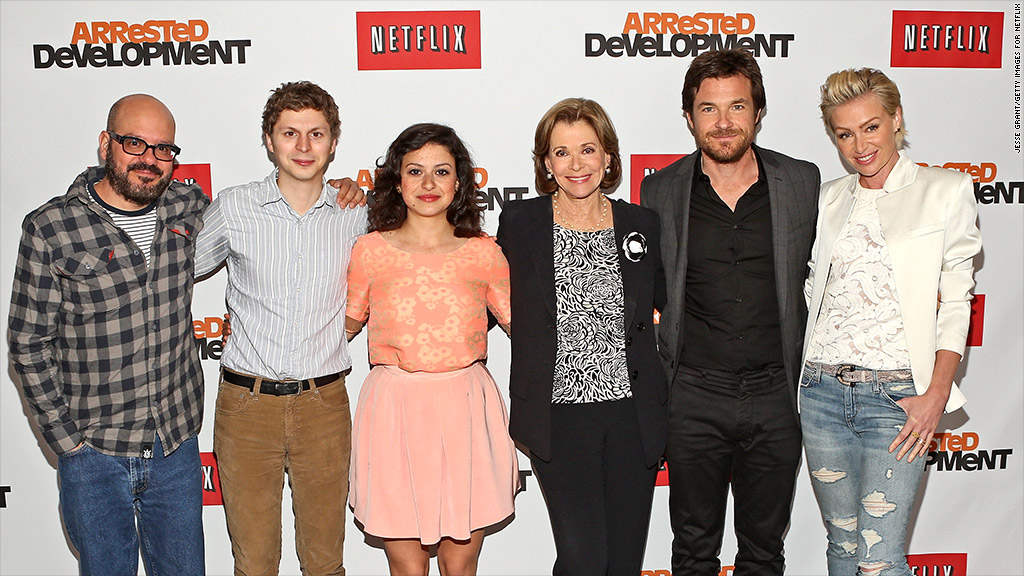 Netflix brought "Arrested Development" back to life this spring, and the comedy series helped boost the online video company's subscriber numbers -- just not by enough.
Netflix's video streaming service netted about 630,000 new American subscribers in the second quarter. That's pretty good, considering that Netflix typically expects second-quarter subscriber numbers to sink year-over year. The subscriber additions were also on the high end of Netflix's outlook for the period: In April, Netflix said it expected to gain between 230,000 and 880,000 new domestic subscribers in the quarter.
The show did generate "a small but noticeable bump in membership when we released it," wrote the company in a prepared statement.
But Wall Street analysts were more optimistic, expecting Netflix to add about 700,000 subscribers. That sent shares of Netflix (NFLX) down 6% in after-hours trading. The selling continued early Tuesday, with shares falling nearly 5% in premarket trading..
That's despite better-than-expected financial results for the quarter. Netflix's second-quarter profit, excluding one-time debt-related charges, came in at 49 cents per share. Analysts polled by Thomson Reuters were expecting earnings of 40 cents per share.
Netflix reported revenue of almost $1.1 billion, in line with expectations.
Related story: Hulu still a tease when suitors come calling
Fox canceled "Arrested Development" in 2006, but its cult-like following convinced Netflix to create a new, fourth season and release all 15 episodes of "Arrested Development" on May 26. It's part of a larger original-content strategy that also included "House of Cards," "Hemlock Grove," and "Orange is the New Black." Another original series, Ricky Gervais' "Derek" will premier in September.
The company reportedly spent $100 million producing and shooting two seasons of "House of Cards," the first of which was released in February.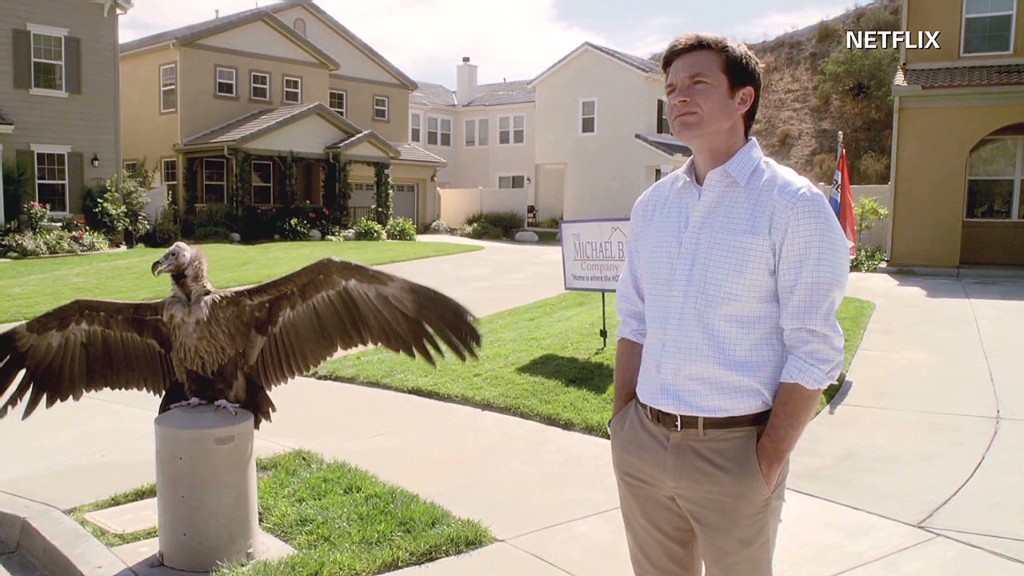 Evidently Netflix executives believe the original content is worth the cost, as it has ordered second seasons of all its first-season projects thus far, and the company plans to expand its homegrown content to include documentaries and stand-up comedy specials. CEO Reed Hastings said Monday that he would like to see Netflix continue to produce additional seasons of "House of Cards."
"We haven't yet turned it into a Harry Potter-esque global phenomenon ... we've only made progress on that" Hastings said.
Its original content even received 14 Emmy nominations last week, the first time Internet TV shows have done so, but the new content released in the past quarter did not translate into a huge jump in subscribers. Netflix netted more than 2 million subscribers in the first quarter of this year.
The company's executives said on a conference call with investors that they expect each individual original series to have a subtle, yet compounding positive impact on Netflix's subscriber growth.
"Even the most iconic TV brands, like The Sopranos, took years before they became brands," said Ted Sarandos, the chief content officer.
Investors have largely bought into the strategy, as Netflix stock prices have nearly quadrupled over the past 12 months.
The number of Netflix users now stand at nearly 30 million domestic and 8 million international subscribers.
Netflix accounts for 89% of the streamed-TV show market, way ahead of its competitors like Hulu and Amazon Prime Instant video, according to the NPD Group. But CEO Reed Hastings said the company is not taking its leading position for granted, noting that Netflix competitors are all getting better.