Apple shares got a big boost Wednesday, one day after the company reported better-than-expected earnings and surprisingly strong iPhone sales.
The stock rose 5.1% to end at $442.50 a share, marking Apple's biggest one-day percentage gain this year.
Apple (AAPL) also reported revenue numbers that topped expectations, but warned that sales in the current quarter could disappoint.
The company expects to deliver sales of between $34 billion and $37 billion this quarter, below analysts' median forecast of just over $37 billion.
Related: Apple profit falls 22% as iPhone sales surge
However, there is a silver lining in Apple's sales outlook, according to Walter Piecyk, an analyst at BTIG. He thinks the forecast would be much lower if Apple did not have a new product in the pipeline.
"This could be the start of a string of new product announcements that increase investor confidence in Apple's ability to return to [earnings] growth next year," he wrote in a report.
Piecyk raised his third-quarter earnings estimate for Apple to $7.22 a share from $7 a share.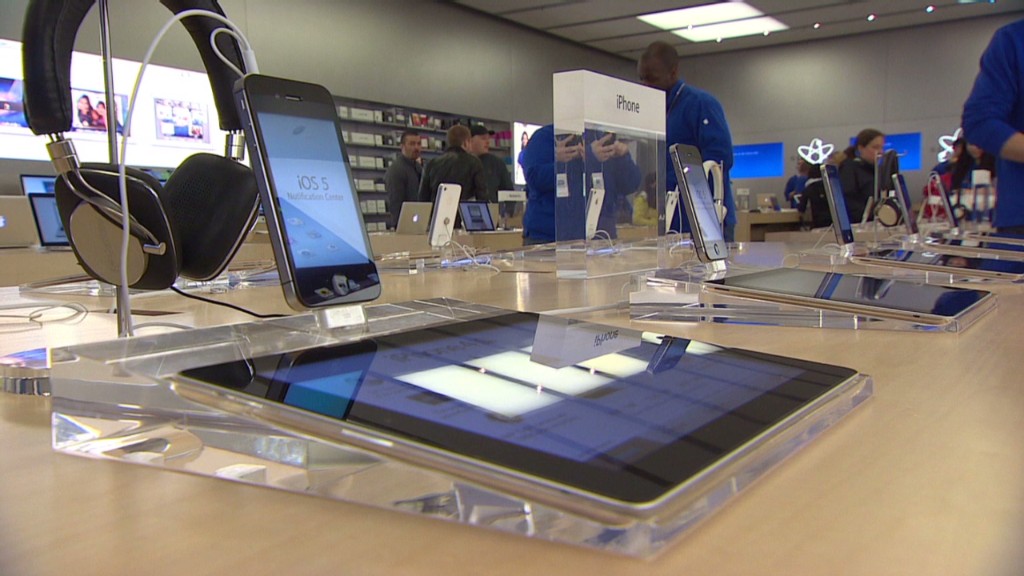 Analysts are increasingly confident that Apple will release a new iPhone sometime between now and the fall.
"We think Apple's forecast implies a new iPhone launch at the very end of the September quarter, at best," said Brian Colello at Morningstar, noting that Apple also lowered its revenue forecast ahead of new product launches in 2012.
Related: Apple's China problem
However, it's not clear that another version of the iPhone will be enough to excite investors.
"Almost everyone believes in a rally going into the new product announcements, so much so that this consensus view may limit its impact," said Stuart Jeffrey at Nomura Securities.
Jeffrey cut his earnings forecast for Apple's upcoming fiscal year by 8% to $39.18 a share, based largely on expected weakness in iPad sales. He said it will be tough for Apple to regain share in the smartphone market in developed countries, and that cutting prices will only hurt already stretched iPhone profit margins.
Related: 5 Apple rumors likely to come true
The good news is that Apple is trading at a steep discount to the broader market.
The stock is down 17% so far this year and is a far cry from the highs of last September, when Apple fetched more than $700 a share.
Apple shares are currently trading at about 10 times next year's earnings estimates, which compares 12.5 for the S&P 500.
The company also repurchased $16 billion worth of its own stock last quarter as part of a plan to return $100 billion in cash to investors. Apple also has a dividend yield of 2.9%, topping the S&P 500 dividend yield of 2.4%.
"Apple is a very good company that is trading at cheap levels compared to rest of market," said Laurence Balter, chief market strategist at Oracle Investment Research. "I think people should look at the near term perform as opportunity."