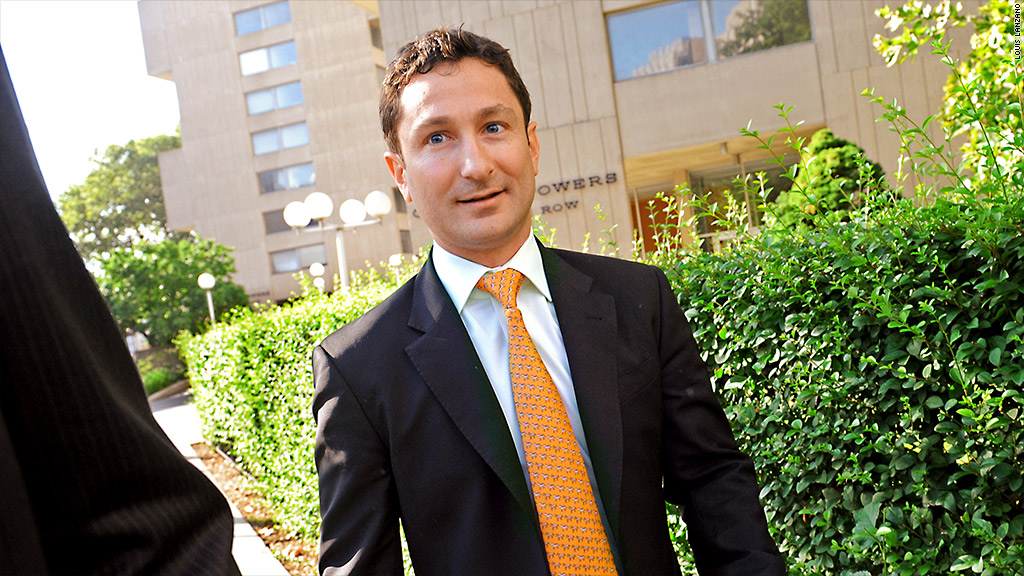 Fabrice Tourre, the former Goldman Sachs trader known as the "Fabulous Fab," testified for the first time on Wednesday in his fraud trial with the Securities and Exchange Commission.
The SEC has charged Tourre with fraud for allegedly misleading investors in real estate-related funds in 2007, withholding the fact that hedge fund Paulson & Co. had shorted the mortgage funds, which were known as Abacus.
"Mr. Tourre did not disclose that a short investor had been involved in selecting that portfolio, that investor being Paulson," said SEC lawyer Matthew Martens, in opening statements last week. "Mr. Tourre told investors a half-truth, and that half-truth was securities fraud."
"The evidence also shows that Mr. Tourre knew what was he was doing wrong," he added.
Related: Wall Street's 'Fabulous Fab' heads to trial
French-born Tourre appeared confident on the stand, at times smiling. When asked whether Paulson was trying to identify weak quality portfolios to go short on, Tourre replied: " I'm not Paulson, so I don't know specifically what trades they were doing."
The SEC's lawyers are trying to prove to the jury that Tourre was deliberately peddling a bad investment - that he knew that the funds, known as collateralized debt obligations or CDOs, were likely to fail. Investors in Abacus lost $1 billion when the housing market fell apart, and SEC lawyers say that Paulson made $1 billion from the fallout.
"[Tourre] put together a CDO that was designed to maximize the likelihood to fail and then he sold it to investors, and the only way to do that was to lie," said Matthews.
But defense lawyer Pamela Chepiga rejected the SEC's portrayal of Abacus investors as innocent, unknowing victims.
"In 2007, synthetic CDOs were high stakes, high level betting," said Chepiga in opening statements last week. "The most sophisticated bettors in the world are the only ones who get a seat at the synthetic CDO table.'
She also said that Tourre was being used as a "scapegoat' and that he "never lied to anyone."
If found liable in the civil case, Tourre would be fined and forced to surrender ill-gotten profits. He would also be barred from working in the financial industry. The SEC had also charged Tourre's former employer Goldman Sachs (GS) with fraud, prompting the firm to agree to a settlement of $550 million in 2010. Goldman Sachs is also paying Tourre's legal bills.
Related: Who is the 'Fabulous Fab?'
As part of its legal arsenal, the SEC has revealed e-mails that allegedly indicate that Tourre knew that the CDOs - and indeed, the entire housing market - was doomed. Part of this evidence is the now-infamous e-mail where Tourre describes himself to a girlfriend as the "fabulous Fab:"
"More and more leverage in the system, The whole building is about to collapse anytime now ... Only potential survivor, the fabulous Fab ... standing in the middle of all these complex, highly leveraged, exotic trades he created without necessarily understanding all of the implications of those moustruosities [sic]!!!" Tourre wrote on Jan. 23, 2007, according to SEC documents.
Chepiga said that back in 2007, everyone knew there were "storm clouds" in the housing market, but know one knew it was destined to implode.
She dismissed the "Fabulous Fab" e-mail as an "old fashioned love letter" that is "not relevant" to the case.
"What this late night e-mail expresses is the self doubt of a young man of which there is nothing fabulous, struggling in an uncertain world," she said.