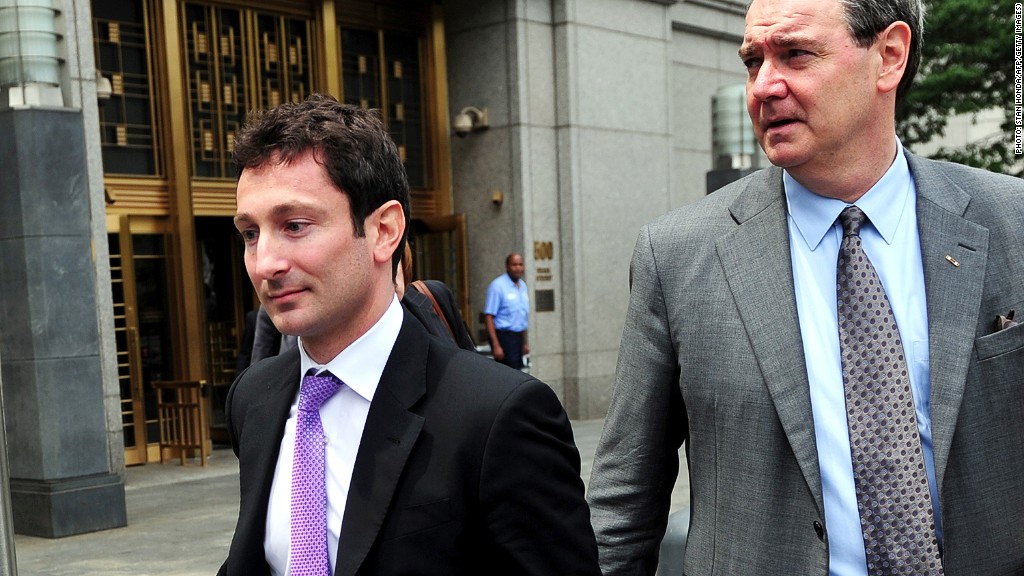 Ex-Goldman Sachs trader Fabrice Tourre, on trial for misleading real estate investors in 2007, was confronted on the witness stand Thursday with a series of e-mails that officials say show he knew the market was about to fall apart.
Tourre is on trial for civil fraud charges for allegedly misleading investors in real estate-related funds. The Securities and Exchange Commission claims he withheld the fact that hedge fund Paulson & Co. had bet against the mortgage funds, which were known as Abacus.
SEC lawyer Matthew Martens said that several e-mails Tourre wrote in early 2007 were evidence "that Mr. Tourre knew what he was doing was wrong."
In one, Tourre wrote: "I love this website ... www.mortgageimplode.com." Martens noted that the e-mail was sent "while Tourre was selling mortgage-backed funds," and Tourre affirmed that it was.
In another e-mail, Tourre wrote: "According to [a Goldman Sachs colleague] the market is totally dead. Subprime borrowers won't last long. I don't intend to wait for the collapse of the sector." Again, Martens asked if Tourre was still selling to investors at the time, and Tourre said that he was.
When Martens asked Tourre how he felt about the mortgage market at the time, Tourre said, "I was more pessimistic than optimistic because of price declines in the market."
Martens also questioned the defendant about his most quoted e-mail, written on Jan. 23, 2007, in which he described himself as "The Fabulous Fab."
It said, in part: "More and more leverage in the system, The whole building is about to collapse anytime now ... Only potential survivor, the fabulous Fab ... standing in the middle of all these complex, highly leveraged, exotic trades he created without necessarily understanding all of the implications of those moustruosities [sic]!!!"
Related: Who is the 'Fabulous Fab?'
But when asked on the stand about that, Tourre said "I created no monstrosities" several times.
Tourre made $1.7 million in 2007, according to his testimony on Thursday.
In yet another e-mail, Tourre said: "I am at the ACA-Paulson meeting, this is surreal." Martens appeared to be trying to get Tourre to admit that what was "surreal" was the fact that asset manager ACA didn't know that Paulson was selling the deal short.
But on the stand, Tourre said, "It was inconceivable [to] me for ACA not to understand that Paulson had a short perspective."
Related: Wall Street's 'Fabulous Fab' heads to trial
The SEC's lawyers are trying to prove to the jury that Tourre was deliberately peddling a bad investment -- that he knew that the funds, known as collateralized debt obligations or CDOs, were likely to fail. Investors in Abacus lost $1 billion when the housing market fell apart, and SEC lawyers say that Paulson made $1 billion from the fallout.
In an email that Tourre sent to his girlfriend Mariane Serres on June 13, 2007 he said, "I just sold a few Abacus bonds to some widows and orphans I met at the airport."
When Martens pressed Tourre on the stand about that email, Tourre said, "I deeply regret this email. It's in very poor taste."
Defense lawyer Pamela Chepiga has rejected the SEC's portrayal of Abacus investors as innocent, unknowing victims.
"In 2007, synthetic CDOs were high stakes, high-level betting," said Chepiga in opening statements last week. "The most sophisticated bettors in the world are the only ones who get a seat at the synthetic CDO table.'
She also said that Tourre was being used as a "scapegoat' and that he "never lied to anyone."
During Thursday's hearing Chepiga asked Tourre, "Was that AC1 Portfolio [Abacus] designed to fail?" Tourre responded, "Of course not."
Chepiga presented a list of Goldman Sachs' best clients during the hearing, which included two companies that had dealings with Tourre's Abacus portfolio. She said one, ACA, insured the portfolio. The other, IKB, an investment bank headquartered in Dusseldorf, Germany, bought into the portfolio.
"Would it be correct to say that it would not be in your best interest to put your best clients in investments that were designed to fail?" Chepiga asked Tourre. Tourre agreed with her that it wouldn't.
If found liable in the civil case, Tourre would be fined and forced to surrender ill-gotten profits. He would also be barred from working in the financial industry.
The SEC also charged Tourre's former employer Goldman Sachs (GS)with fraud, prompting the firm to agree to a settlement of $550 million in 2010. Goldman Sachs is also paying Tourre's legal bills.