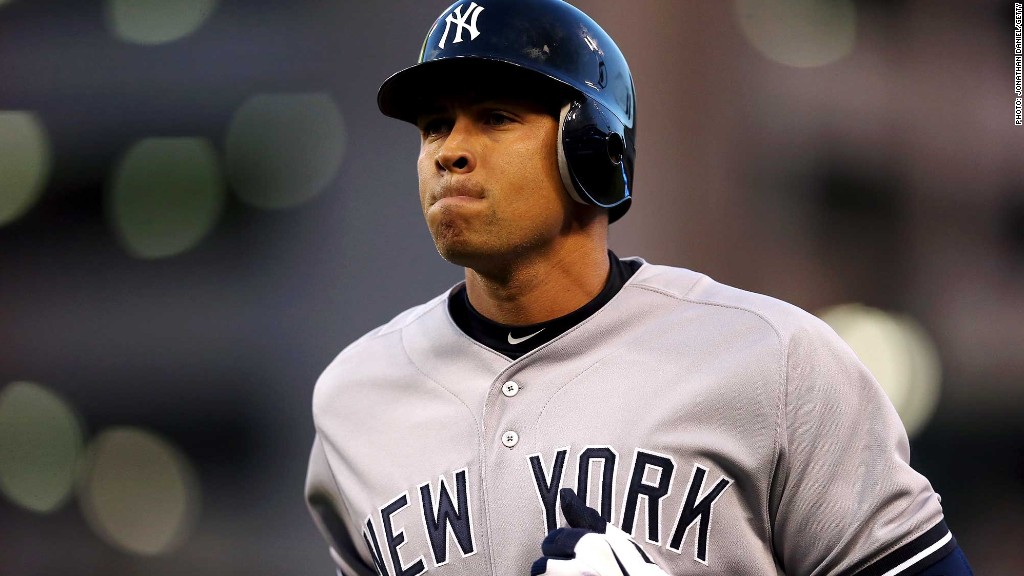 Embattled New York Yankees' third baseman Alex Rodriguez could still be paid $61 million, even if he never plays another Major League Baseball game.
Published reports say that Rodriguez faces the longest and most costly suspension in the sport's history.
The suspension could be for violating rules on using performance enhancing drugs (PEDs). Or it might focus on allegations he tried to thwart MLB's investigation of Biogenesis, the Miami clinic that allegedly supplied him and other baseball stars with PEDs.
While some reports say A-Rod could face a lifetime suspension that could cost him all future earnings, other reports suggest he could be suspended for the rest of this year and all of next season. That year-plus suspension would cost him about $9 million in salary for this year and $25 million he is owed for next year, since players are not paid during suspensions.
The $34 million hit to his wallet would dwarf the most expensive baseball suspension before this -- the nearly $8 million that Manny Ramirez lost when he was suspended in 2009 while playing for the Los Angeles Dodgers.
Bleacher Report: Suspensions imminent for A-Rod, others
But A-Rod may well have played his last game. He has been struggling to come back from off-season hip surgery, his second such procedure. While he has played some minor-league rehab games this year as he tries to return to the majors, he has yet to play an inning for the Yankees. And he is only a shell of the player once considered to be the best in the sport.
Since he just turned 38 years old last Saturday, many believe it is unrealistic to expect he could play in 2015 and beyond, even if the suspension ends with the 2014 season.
However, his 10-year, $275 million contract with the Yankees runs through the 2017 season. Baseball Prospectus reports that he's due $21 million for 2015, and $20 million for each of the following two seasons. And he could get that money, even if he's not capable of playing.
Related: The Fortunate 50 - the best paid athletes
MLB spokesman Pat Courtney wouldn't comment on A-Rod's case directly or the possibility of a suspension. But he confirms that if a player is physically unable to play and has his career end early, he is still due the money under MLB's guaranteed contracts. Former player Albert Belle received more than $12 million a year from the Baltimore Orioles for the three years after his career ended due to his own hip injury.
This is in stark contrast to the non-guaranteed contracts of the National Football League. Quarterback Michael Vick lost $70 million that he was owed under a contract voided in 2009 following his conviction for dog fighting. Vick also lost lucrative endorsement deals.
A-Rod has relatively few endorsement deals, despite his past on-the-field success. The Fortunate 50, a ranking of athlete pay compiled by Sports Illustrated and Fortune magazines, estimates he got only $900,000 from endorsements last year, although his salary was still good enough to make him the ninth best-paid U.S. athlete.