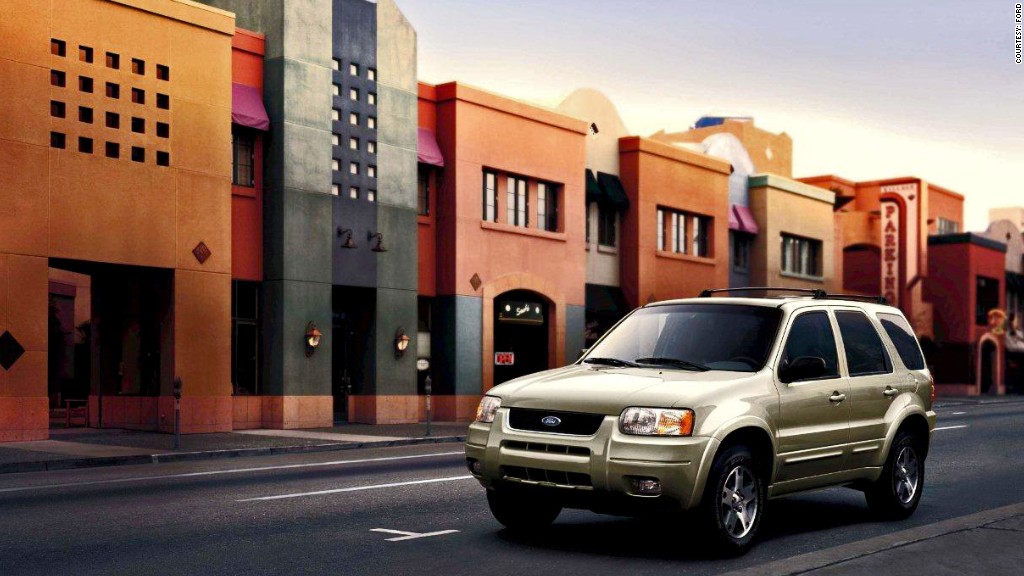 Ford Motor Co. has agreed to pay a maximum $17.4 million fine to the federal government for allegedly delaying the recall of Ford Escape SUVs with gas pedals that could become stuck.
A year ago, Ford (F) recalled 421,000 Escapes in the U.S. for a problem in which the vehicles' gas pedals could remain depressed almost all the way down even after the driver had removed his or her foot. That would cause the SUVs to continue accelerating unintentionally.
"We take the safety of our customers seriously and continuously evaluate our processes for improvements," Ford said in a statement. "While we are confident in our current processes for quickly identifying and addressing potential vehicle issues, Ford agreed to this settlement to avoid a lengthy dispute with the government."
Gallery - Five really great large cars
The settlement indicates that the National Highway Traffic Safety Administration believes Ford knew of the problem for some time before alerting the agency and vehicle owners.
"It is critical to the safety of the driving public that manufacturers address automotive safety issues quickly and in a forthright manner," NHTSA said in a statement. "As government regulators, it is our job to ensure that manufacturers are held accountable to address safety issues promptly and responsively."
NHTSA opened an investigation into complaints of stuck throttle pedals on Escapes on July 17, 2012 as a result of a crash and, as part of that investigation, sent a formal request for information to Ford.
Ford recalled the vehicles a week later, even before its response to NHTSA's information request was due, according to the safety agency. The timing worked out that way because Ford, by that time, had already begun its own internal investigation of the problem, the automaker said.
Based on further investigation, NHTSA suspected that Ford hadn't promptly informed the agency and the public about the problem once it had become apparent to the automaker. Federal law requires automakers to inform the safety agency within five days of learning that a safety problem exists.
NHTSA informed Ford that it planned to begin a "timeliness" investigation and the automaker then agreed to pay the maximum allowable fine rather than wait for that investigation to proceed.
The fine, the largest allowed for any single instance, is equal to the amount paid by Toyota late last year for failing to promptly recall vehicles in which gas pedals could become stuck in floor mats. Toyota also paid several earlier fines for nearly the same amount in other cases.