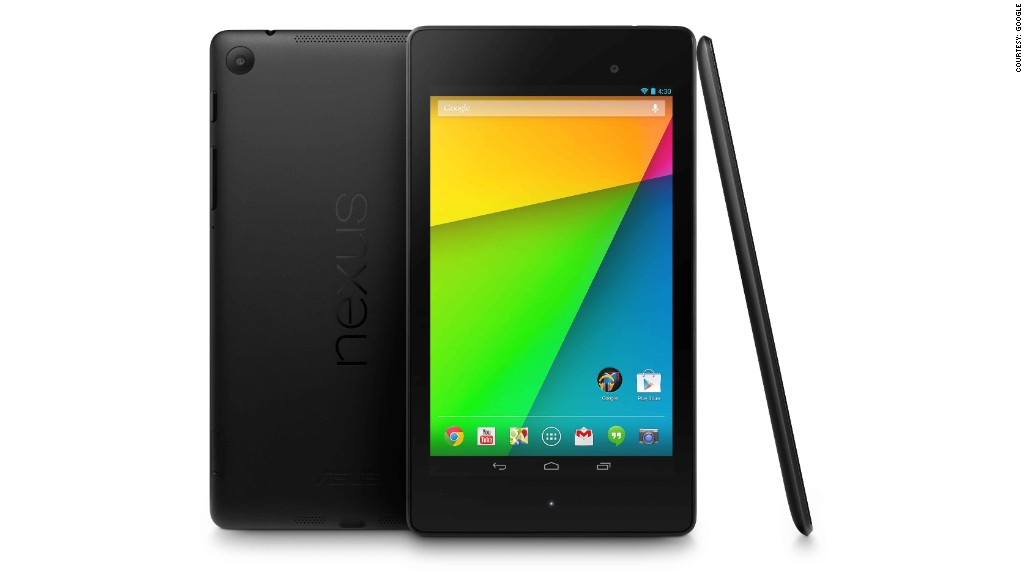 Google's new Nexus 7 tablet isn't just the best small Android tablet you can buy. It's the best Android tablet, period.
The popular mini tablet, which Google (GOOG) first released last year, got a significant revamp last week that hits all the right notes.
Blazing fast speed? Check. Slimmer, thinner and lighter? Check. Gorgeous, Retina-quality seven-inch display? Check. The purest and most up-to-date version of Android. Check. World-beating value at $230? Jackpot.
The base model Nexus 7 is now $30 more expensive than last year's version, but what you're getting in return are some of the best guts any tablet has to offer on the inside, which translates into beautiful results on outside.
The display is as excellent as anything you'll find on any mobile device, big or small. The screen has excellent viewing angles, satisfying brightness and contrast (rich colors, deep blacks and bright whites), and good color accuracy.
The Nexus 7's marriage of awesome power and a gorgeous display really pays off when you're running an app that uses each pixel and every bit of the tablet's processing speed to the fullest, such as the EA (EA) game Real Racing 3.
Related story: Google Chromecast offers more questions than answers
It's also just as good for more mundane activities. Weighing only 0.64 pounds, and occupying the footprint of a stretched out e-reader, the Nexus 7 is quite good for reading.
One caveat: The bezels running the length of the device are noticeably slimmer on this year's model, When holding the tablet vertically in portrait mode, the narrower bezel makes one-handed page turning a bit awkward. It's not that it's an impossible feat, but it takes some getting used to -- and self-assuring that the tablet isn't going to slip out of your hand.
Conversely, the bezels running the width of the tablet are thicker than before. This gives the device a bit of an awkward appearance, but it does make holding the tablet horizontally in landscape mode a bit more comfortable. For those who watch a lot of video on the go, this -- and the excellent screen -- will bring joy.
With a rubberized back, rounded corners and edges that creep up and envelop the Nexus 7 screen, the tablet looks and feels lot like Amazon's (AMZN) Kindle Paperwhite e-reader, but with a little extra weight, size and performance. It easily fits in a pocket, and it is light enough -- if not quite short enough -- to make you forget you're carrying it around. It's an excellent companion for trains, planes, automobiles and anything in between.
Unless you're streaming high-definition movies non-stop with the brightness cranked all the way up, the Nexus 7 will get you through an entire day of use -- if not days of use. And even if you decide to tax the battery, it will still last you the better part of a work day.
The Nexus 7 also has stereo speakers and a 5-megapixel camera. Like most tablets, these are solid enough features to use in a pinch, but you'll be better served by using headphones and a smartphone camera.
Like Apple's (AAPL) iPad Mini, the small size makes it a device best suited for consumption -- reading, watching, listening, browsing, and gaming -- rather than creation. If you're into word processing, spreadsheet making, sketching, drawing, a larger 10-inch tablet is the way to go.
But if you want an Android tablet and are not particularly caught up on screen size, buy the Nexus 7. It's cheaper, lighter, thinner and more powerful than any competitor.