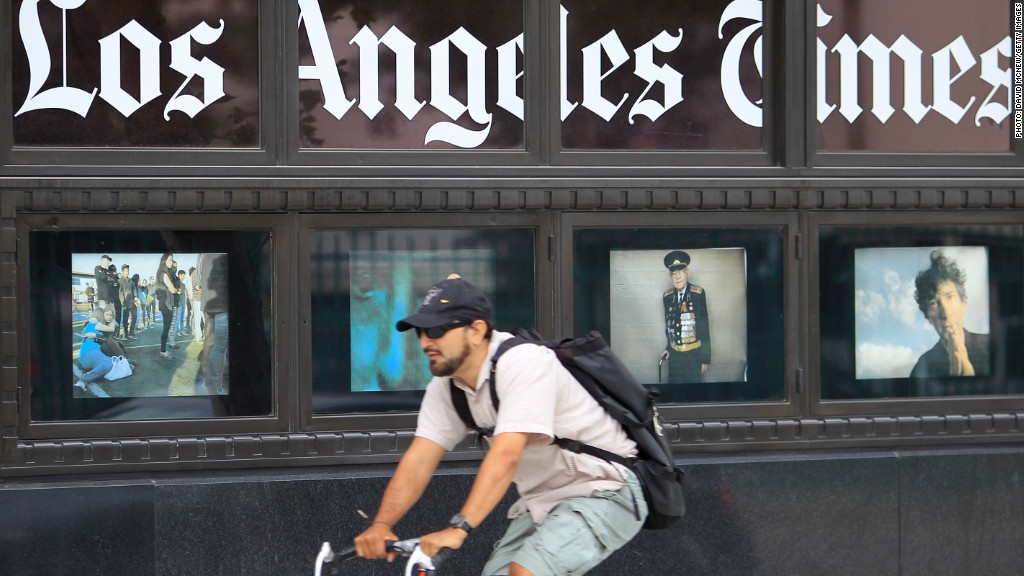 The last couple of days have been a whirlwind for the newspaper industry, with both The Washington Post and The Boston Globe finding new owners. Is The Los Angeles Times next?
The sale of the Post in particular came as a shock to many in the media industry. The venerable D.C. paper, long run by the Graham family, was sold along with several smaller titles to Amazon.com (AMZN) founder Jeff Bezos for $250 million.
The Los Angeles Times, by contrast, is widely known to have been on the block for months, but a sale has been slow in coming.
The Times is part of the stable of newspapers at Tribune Company, which also owns seven other dailies including The Chicago Tribune, The Baltimore Sun and The Orlando Sentinel.
Tribune Company emerged from bankruptcy in December, and subsequently explored the possibility of selling its newspaper business. The company also owns over 40 local TV stations and a handful of digital advertising sites, and intends to focus on those businesses going forward.
So far, however, the company hasn't found the right buyer. The sale process now appears on hold after Tribune announced plans last month to spin off its publishing business as a separate company, a process that will take about a year.
"[T]he separation is designed to allow each company to maximize its flexibility and competitiveness in a rapidly changing media environment," Tribune CEO Peter Liguori said in a statement. A Tribune spokesman declined to provide additional comment.
Alan Mutter, a media consultant and former newspaper editor, called Tribune's spin-off decision "a surprise" in a blog post last month. He said the decision appeared driven in part by tax considerations, "but also may reflect a lack of buyers willing to pay as high a price for the publications as the company had hoped to fetch."
The spin-off follows similar moves by Time Warner (TWC) and News Corp. (NWSA) to cleave off struggling print businesses.
Time Warner announced earlier this year that it was spinning off its Time Inc. magazine division. News Corp completed its own spin-off in June, separating print assets including The Wall Street Journal and The New York Post from a broadcasting and entertainment conglomerate now known as 21st Century Fox (FOX).
CNNMoney is a joint venture between Time Warner's CNN division and Time Inc.
A number of possible buyers for Tribune's newspaper properties have been mentioned in recent media reports, including Rupert Murdoch's News Corp, billionaire industrialists Charles and David Koch and a group of investors in Southern California including business magnates Eli Broad and Ron Burkle.
News Corp. made a splash in the U.S. newspaper business in 2007 when it acquired Wall Street Journal publisher Dow Jones in a blockbuster, $5.6 billion deal. A News Corp spokeswoman declined to comment.
Related: Washington Post just one of many wacky Bezos buys
Representatives for Broad and Burkle did not respond to requests for comment, though a spokeswoman for Broad told The Hollywood Reporter earlier this year that the KB Home (KBH) founder "has always believed in local ownership of The [Los Angeles] Times and would be interested in joining with others to buy the paper."
A spokeswoman for Koch Industries pointed to comments from Charles Koch last month in which he told The Wichita Eagle that it's "possible" that his company could bid on Tribune's newspaper business.
"We are at square one on that," Koch said. "There are tremendous changes going on in media ... We're back at square one analyzing where is the most change, where are the best opportunities for new entrants to come in and add value?"
Charles Koch and his brother David are well-known supporters of conservative causes, and their interest in Tribune's newspapers has provoked an outcry from a number of left-leaning groups who fear they would use the titles to push their political agenda.
"We need newspapers that are dedicated to providing objective and high-quality reporting, not another Fox-news style propaganda machine," AFL-CIO president Richard Trumka said in May.
There's also billionaire investor Warren Buffett, whose Berkshire Hathaway (BRKA) owns a number of local newspapers around the country.
Berkshire isn't seen as a candidate to buy Tribune's entire stable of newspapers. But in December, Buffett told The Morning Call, a Tribune paper in Allentown, Pa., that Allentown "is our kind of place."
Craig Huber, research analyst at Huber Research Partners, said it appeared that Tribune had struggled to sell its newspapers in part because it was trying to get rid of them all at once, "rather than have someone handpick the trophy assets."
With the spin-off process underway, the future ownership of Tribune's newspaper division is still an open question.
"Whether the newspapers end up being their own public company or they eventually get sold after they become a spun-off entity or before being spun off, I don't think Tribune cares as long as they can get them off their books" Huber said.